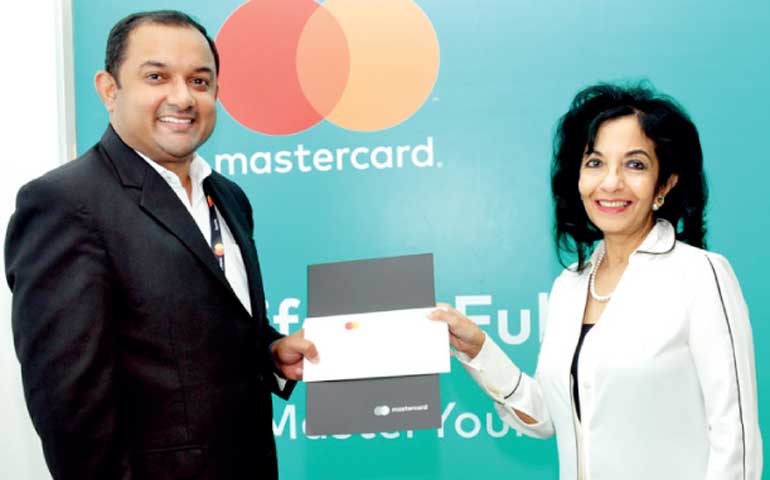 Mastercard Country Manager, Sri Lanka and Maldives Sandun Hapugoda with Interbrand Sri Lanka and the Maldives Partner and Headlines PR Chairman, Anusha David
Interbrand, in association with the Daily FT and Mastercard, will celebrate this year's International Women's Day on the theme of "DigitALL: Innovation and Technology for Gender Equality and #EmbraceEquity".

The gala will be held on 7 April at the Oak Room of Cinnamon Grand Colombo.
Interbrand, a leading global brand consultancy, specialises in brands and brand management, with 24 offices in 17 countries. The New York-based consultancy publishes the "Best Global Brands" report every year to identify the world's 100 most valuable brands. For the past 20 years, Interbrand has been putting a value on the world's top brands. In an era when intangible value has become a critical measure of organisational performance, Interbrand's "Best Global Brands" acts as a definitive source of knowledge.

The event will once again have Mastercard as its strategic partner, reiterating the commitment to women empowerment in all parts of the world.

Mastercard Country Manager, Sri Lanka and Maldives Sandun Hapugoda said: "As a global technology company in the payments industry, Mastercard has a mission to connect and power an inclusive digital economy that benefits everyone, everywhere by making transactions safe, simple, smart, and accessible. The company is committed to connecting one billion people, 50 million small businesses, and 25 million women entrepreneurs to the digital economy by 2025.

"Mastercard has been working on digitally empowering women entrepreneurs and enterprises through specialised programs, training, and other initiatives, so that they can easily access markets and credit to enhance their business operations. The company is also investing in the next generation of women business leaders and entrepreneurs through its signature Girls4Tech education program, which encourages and supports young girls to pursue STEM education."

"We are indeed indebted to our partners for this event. Many of our partners were with us even last year and we hope they will continue this association next year as well," said Interbrand Sri Lanka and the Maldives Partner and Headlines PR Chairman, Anusha David.

The United Nations Observance of IWD recognises and celebrates the women and girls who are championing the advancement of transformative technology and digital education. IWD 2023 will explore the impact of the digital gender gap on widening economic and social inequalities. The event will also highlight the importance of protecting the rights of women and girls in digital spaces and addressing online and ICT-facilitated gender-based violence.

As per the UN's Women's Gender Snapshot report 2022, women's exclusion from the digital world has shaved $ 1 trillion from the gross domestic product of low and middle-income countries in the last decade – a loss that will grow to $ 1.5 trillion by 2025 without action. Reversing this trend will require tackling the problem of online violence, which, according to a study covering 51 countries, is experienced by 38% women.

Mastercard has been in Sri Lanka for over three decades. Over the years, the company has brought its world-class secure payment solutions to the local market and has established strategic partnerships with noted merchants in the areas of shopping, dining, leisure and more. Apart from its core strength as a payments technology innovator, Mastercard is very well positioned to bring deep and broad value to the overall ecosystem, fast-track digital transformation, forward financial inclusion, and facilitate the creation of a cashless society.