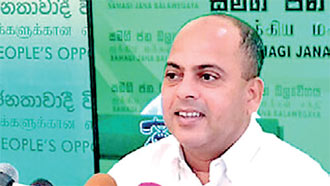 MP S.M. Marikkar
---
Samagi Jana Balawegaya (SJB) MP S.M. Marikkar yesterday accused the Committee on Public Enterprises (CoPE) Chairman MP Prof. Ranjith Bandara of ignoring complaints regarding serious fraud and corruption taking place in State agencies.

The MP tabled three communications he sent to the Committee on Public Enterprises (CoPE) in the past year.

In a letter dated 30 June 2023, the MP had highlighted his concerns about the procurement of LPG gas at an escalated cost. During that period, he said the then Chairman of CoPE had called in officials from Litro to address the matter. He pointed out that the proceedings were halted due to the prorogation of Parliament.

"Subsequently, on 20 October 2022, I reiterated the concerns regarding Litro and raised an issue concerning purchases by CEYPETCO to the new CoPE Chair. Despite conveying these concerns in both written and verbal forms, no summons were issued," he said.

In a third communication dated 23 July 2023, the MP said that he had urged CoPE to conduct an audit of the audit report pertaining to the acquisition of organic fertiliser, as it had neglected to do so. "However there was no response," he noted.

The MP levelled accusations against the CoPE, asserting that it prioritises summoning State agencies of lesser importance, neglecting significant instances of large-scale fraud occurring elsewhere, despite continuous complaints from concerned parties, including MPs.