Cabinet approval given for Rs. 120 b to come into effect from 1 Jan.
All grades given salary raise, latest increase to shoot up Govt. salary bill to Rs. 1.12 trillion
Minister says salary hike "historic", believes no other Govt. has raised salaries by 107%
Claims increase not in response to strikes, slams Opposition for using public sector for political gain
By Asiri Fernando

Giving a boost to the public sector ahead of elections, Finance Minister Mangala Samaraweera yesterday said that the salaries of government employees would be increased by Rs. 120 billion following a proposal approved by Cabinet but insisted it would not cause fiscal slippage.

The Cabinet paper, which was approved on 10 September, gives additional funding to pay the salaries and pensions of government employees, which are currently estimated at about Rs. 1 trillion. From 2020, the amount will be increased to Rs.1.12 trillion, according to the Finance Ministry.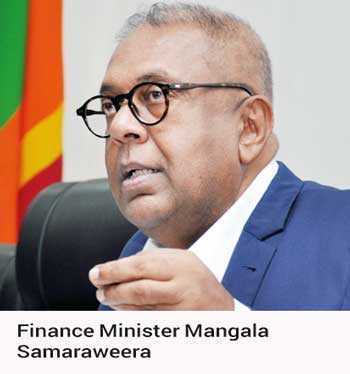 Samaraweera yesterday outlined to reporters the increase of government employee salaries based on recommendations made by a Presidential Committee. He told reporters that following a Cabinet decision taken on Tuesday, the salaries of all government employees would be increased from 1 January 2020.

This was a change from the initial proposal by the Treasury to give half the salary increase in January and the remainder from 1 July 2020. Samaraweera was upbeat on the decision, insisting that no government in history had increased the salaries of public servants by 107% over the space of four years.

Under the approved program, a public sector Executive Grade officer will see his basic pay increase by Rs. 9,587 while a Ministry Secretary will see a rise of Rs. 23,975. An entry level public sector employee will see a pay raise of Rs. 3,000, bringing it to Rs. 27,250. A Grade 1 Medial Officer will see a Rs. 16,407 pay rise with similar increases across all pay grades.

Samaraweera stated that a Cabinet decision taken this week would see armed forces and police personnel who were disabled during the war entitled to their pension equivalent to their last salary for the remainder of their lives. "This is a historic decision" he claimed.

Minister Samaraweera pointed out that armed forces personnel received their last active pay including benefits and allowances in full as the pension. However, the Minister and Treasury officials pointed out that the demand by disabled veterans that their full pay with benefits should be paid to their wives or next of kin was not possible due to existing salary regulations. However, the spouse or nominated next of kin would continue to receive a significant amount of the pay as pension.

Treasury Secretary Dr. R.H.S. Samarathunga explained that out of the Rs. 1 trillion allocated for pensions and salaries, about Rs. 750 billion was allocated for salaries and the remainder for pensions. He said that the recent Cabinet decisions would address longstanding discrepancies in public sector wages, which would be further resolved with additional funding that that will have to be supplied by the next government.

Referring to the spate of recent strikes, Minister Samaraweera charged that many public servants had been hoodwinked.

"Government servants have been misled and some individuals have mobilised them to disable public services."

He requested all public servants not to become tools of political forces. Further, the Minister claimed that those who instigated and misled public servants knew that the Cabinet was planning to approve the increases but encouraged the strikes to discredit the Government.