Says elections will help people to get spiritual release in current situation
Reveals SLFP in discussion with other parties to form alliance
Party's restructuring efforts will commence in December
Maithri to crack the whip against dissenting Duminda
---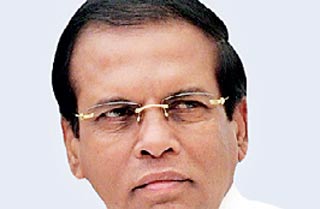 SLFP Chairman Maithripala Sirisena
---
Sri Lanka Freedom Party (SLFP) Chairman Maithripala Sirisena has called for an election to be held immediately.

He said the party along with its factions wrote both the Election Commission of Sri Lanka and the Government to inform them of their stance and request for an election to be held.



"The party remains in the stance that elections must be held for numerous reasons. It is important to hold an election for both economic and social reasons," he said. According to Sirisena, an election will also allow the people to release their tensions and pressures given the current situation. "It will help them spiritually. There is a psychological basis to it," he said.

Addressing a press briefing at the party headquarters on Darley Road in Colombo yesterday, the party Chairman revealed that steps are being taken to strengthen the party and that discussions are also ongoing with several other parties in the Opposition to forge an alliance to face any future elections. "The party will only be part of a progressive leftist Government with a focus on a manufacturing economy," he said.

SLFP General Secretary Dayasiri Jayasekara said the SLFP will commence its party restructuring program in December in preparation for any future election.

Meanwhile, Sirisena also said disciplinary action will be taken against MP Duminda Dissanayake for voting in favour of the budget and thereby going against the party's decision.

Sirisena said the decision was made by the party's central committee. "It was announced beforehand and was even reported in the media," he noted. Dissanayake is the national organiser of the SLFP. The party has already booted Ministers Mahinda Amaraweera and Nimal Siripala de Silva from the party membership and all positions they held in the SLFP for going against it and pledging their support to the Government.

Sirisena said the SLFP decided to vote against the budget for several reasons. Among these, Sirisena said the proposals to restructure profit-making state ventures and hand over powers of lands belonging to the Sri Lanka Land Development Corporation to the Divisional Secretariats are problematic.

He also slammed the Government's decision to request farmers to pay in advance to receive additional fertiliser needed. "For these and for many other concerns we decided to vote against the budget," he said.

Dayasiri Jayasekara, commenting on the matter, said the decision was communicated to all members of the party. "That decision applies to all members of the party," he added. Jayasekara revealed memberships of at least eight members were on hold due to disciplinary issues.