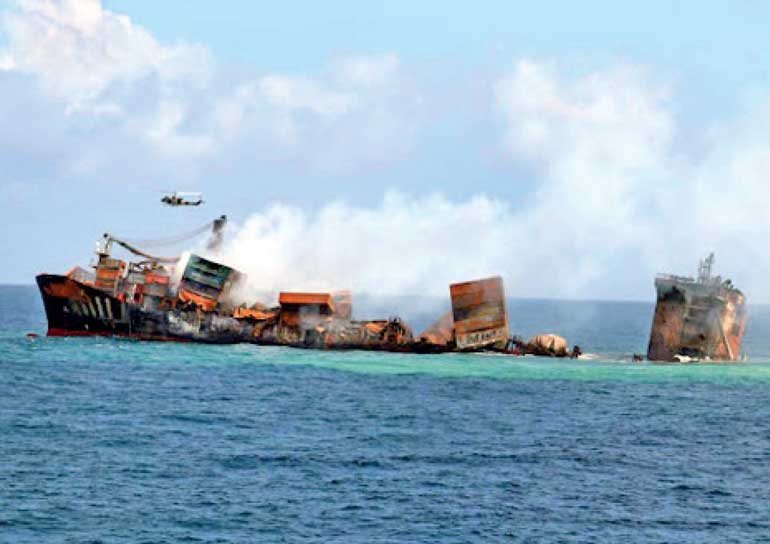 We observe opportunists with little or no knowledge and experience of shipping are endeavouring to place the blame on the shipping agents for this debacle and are calling for changes in agency ownership structure which has totally no relevance. Everyone will have 20/20 vision in hindsight and all are experts after a catastrophe
 
---
By Ceylon Association of Shipping Agents
---
In the wake of the MV X-Press Pearl disaster, much attention has been drawn to the shipping agent and the role played by the agent in handling Dangerous Cargo (DG Cargo) and also incidents related to damages and handling of such instances. 
 
Role of the agent
Every ship that has called Sri Lanka has had a shipping agent who is considered the long arm of the principal who coordinates and arranges all services connected to a vessel's call in Sri Lanka to the entire satisfaction of the principal, their customers and the service providers to the ship in full compliance of all laws and regulations of the Government of Sri Lanka. 

As per the law in Sri Lanka, shipping agents are regulated by the Director General of Merchant Shipping (DGMS) – Ministry of Ports and Shipping. Any company operating as a shipping agent should obtain a license from the Director General of Merchant Shipping (DGMS) under the Licensing of Shipping Agents Act No. 10 of 1972. This license has to be renewed annually. 

Obtaining a shipping agents license involves stringent requirements enforced by the DGMS and operational compliances with Sri Lanka Customs and Sri Lanka Ports Authority.

All dangerous cargo loaded and unloaded from vessels are declared to the Sri Lanka Ports Authority as per the DG cargo procedure of each shipping line. Strict compliances are religiously met by the shipping lines and their agents as required by the International Maritime Dangerous Goods (IMDG) Code. Relevant personnel in principals' offices, agents' offices, on board ships and in ports of Sri Lanka and the world over are trained and updated in these compliances and practices to ensure overall safety at every level of transportation.

The procedures adopted by the agents and the shipping lines when accepting hazardous cargo requires that when a booking inquiry is received from the shipper (exporter), full details of the hazardous cargo including the Material Safety Data Sheet (MSDS), a document that contains information on the potential hazards (health, fire, reactivity and environmental) and how to work safely with the chemical product is received from the shipper. This information is dispatched to the Hazardous Cargo Desk of the shipping line for approval. 

If the vessel is operated by the line accepting the hazardous cargo, then the Hazardous Cargo Desk will accept or reject the booking. If the vessel operator is another line the hazardous cargo request is submitted to the DG desk of the vessel operator. Based on their acceptance the approval will be communicated to the load port agent and cargo accepted.

The load port agents will notify the authorities at the load port as well as the Master of the vessel to ensure proper acceptance and stowage of the cargo firstly at the load port and secondly onboard the vessel. 

Hazardous cargo is stowed onboard the vessel at a pre-assigned stowage location. Once the cargo is loaded on board, the information of all hazardous cargo is transmitted to the ports of call of the vessels, the transshipment port as well as the discharge ports so that the authorities are kept informed of hazardous cargo onboard the vessel.

When vessels call at the Port of Colombo, a hazardous cargo declaration is submitted to the Safety Section of the Sri Lanka Ports Authority listing out all the hazardous cargo that is being discharged, transshipped or retained onboard. For certain categories of cargo Ministry of Defence approval too needs to be obtained. The Safety sector of the SLPA will accept such declarations, scrutinise same and permit the vessel to enter the Port of Colombo to discharge any hazardous cargo if it is destined for Colombo or be transshipped at Colombo or for the hazardous cargo to remain onboard if it is in transit. 

If a hazardous cargo declaration is not provided, the vessel is not permitted to enter the port. 

All this is coordinated by the shipping agent, based on the information/declarations he has received from the Port of Loading, Principals or the Master. 
 
Incident
The recent incident of MV X-Press Pearl is but an extremely rare and unfortunate case which has had an adverse impact on the environment, the Port of Colombo, livelihood of the fishing community and the affected coastal belt while denting our image in shipping circles. MV X-Press Pearl was on a scheduled port call to Colombo during which this unfortunate fire erupted. It is in stakeholders' interest not to allow a ship to be destroyed and cause damage to the environment as such action would have adverse effects on the lives of the fishing community, hospitality industry and all Sri Lankans in general with long-term and far-reaching consequences.

Dousing the fire and ensuring safety of the crew was therefore the main objective of all authorities concerned. It is, therefore, important not to jump to conclusions, condemn and insinuate fault or lapses on any one's part until all sides have been listened to.

Handling leaking containers, damaged DG containers and vessels having fires onboard is nothing new in the Port of Colombo. There have been numerous instances where such issues have been handled by the Sri Lanka Ports Authority and the Container Terminals in close cooperation with the agents. 

One of the most recent cases of fire on board a vessel which was handled successfully was the MSC Daniella a 14000 TEU vessel where Sri Lanka received commendation for handling the vessel.
 
Sri Lanka as a maritime hub
Over 90% of global trade is carried by ships and many container ships carry DG cargo in compliance with the IMDG code as stated above. Thousands of tons of dangerous and hazardous cargo are carried by ships the world over.

The largest of ships in the world call Colombo with as much as 20,000 TEUs on board the larger vessels. Several of the containers carried dangerous and hazardous cargo. Sri Lanka has handled over 250,000 vessels during the period 2000-2020 and has been ranked as the world's No.1 container growth port among the top 30 container ports in 2018 by Alphaliner. 

Any maritime hub has to have the capability of handling DG cargo and even reworking such containers when required. Port of Colombo has a positive reputation as a port which can handle such damaged DG containers and have received commendations in the past. If Sri Lanka aspires to be a maritime hub and capitalise on its strategic location advantage, we should offer these services to all shipping lines calling Colombo. Our southern coastal belt sees over half of the world's crude oil tankers sail by, yet we are still not tasked with meeting severe catastrophes.
 
Need of the hour
There's an immediate need to improve the emergency response handling in case of a vessel in such cases of vessels in distress. Sri Lanka needs to invest in more resources and international experts to be on call for such emergencies. 

CASA representatives, inter alia, stakeholders have worked with the Ports and Shipping Ministry in the past in developing a comprehensive maritime policy for Sri Lanka. Some of the way forward action plans covered ports and related infrastructure, development of maritime-related services, ships, ship owning, ship and crew management, shipping and NVOCC agency, coastal shipping, development of logistics and intermodal infrastructure, harmonising of regulatory framework, maritime safety, security, marine pollution prevention, maritime training, promotion of small and medium scale enterprises in maritime and logistics.

We believe that this exercise which was the dedicated and committed effort of all relevant stakeholders must be urgently reviewed and enacted together with fast tracking ratifying of international conventions related to maritime which come under the Director General of Merchant Shipping.

We observe opportunists with little or no knowledge and experience of shipping are endeavouring to place the blame on the shipping agents for this debacle and are calling for changes in agency ownership structure which has totally no relevance. Everyone will have 20/20 vision in hindsight and all are experts after a catastrophe.