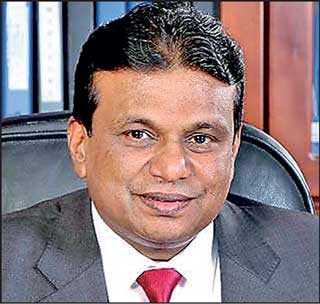 Anil Koswatte
---
Litro Gas Lanka Ltd. has announced the launch of an innovative Premium Hybrid 18 Litre Cylinder which it says will revolutionise the LPG industry in Sri Lanka.
"As the national LPG provider with a legacy of 150 years, Litro Gas Lanka has always sought keep in step with expanding consumer needs by providing innovative LPG solutions," Litro Gas Lanka Chairman and CEO Anil Koswatte said.

"Introducing a unique LPG solution to meet an increasing consumer demand is a priority for the Company. Our new and innovative Premium Hybrid 18 Litre Cylinder is expected to revolutionise the LPG industry in Sri Lanka by offering outstanding economic benefit in a size that meets global specifications," Koswatte said.

Priced at only Rs. 1,395.00, the new Litro Premium Hybrid 18 Litre Cylinder will be sufficient for a family of four, meeting their LPG needs for a month, he added.

The rapid increase in globalisation continues to enhance the need for clean, green energy across the world – the new Litro Premium Hybrid 18 Litre Cylinder will now bring global standards to Sri Lanka with a unique size that allows more energy at a competitive price. "We have consistently been able to pass on a great economic benefit to our consumers by maintaining our LPG prices for over a year, in keeping with the guidance of President Gotabaya Rajapaksa envisioned in the Government's 'Vistas of Prosperity & Splendour' ('Saubhagyaye Dakma'). We believe that our new product will add tremendous value to that promise," Koswatte said.

As the industry leader with a market share of over 75%, Litro Gas Lanka has continuously upheld the trust placed in the company by its customers. "Our priority has always been to bring the Sri Lankan LPG industry up to date with the standards of the global energy sector while ensuring safety at all levels of our operations and delivering value for money in energy solutions for our customers," he said.

Commenting on the safety aspect of the new cylinder, Litro Gas Lanka Director – Health, Safety and Environment Jayantha Basnayake said that the new cylinder comes with an enhanced LPG Vapour Ullage which reduces transportation issues in changing environmental conditions, noting that the Ullage space is increased according to the international standards with the new packaging.

He added that more space in the vapour phase ensures a continuity of saturated vapour flow, resulting in less flame fluctuation or system related pressure drop incidents. "The EU directive 90/269/EEC on manual handling states that the maximum load of weight handled by a person to be limited to 25 kgs – hence, a reduced weight of the premium package solution minimises manual handling related risks," he pointed out.

Litro Gas Lanka Director Operations Kamal Wickramasinghe said that the new Premium Hybrid 18 Litre Cylinder has a greater filling efficiency capability. "It has an optimised propane component in the propane butane LPG mixture, ensuring more vapour space and hence, a more efficient filling which results in a faster supply process and a consistent turn around cycle."

"We are built on a strong multinational heritage that enables us to identify and understand global dynamics in the energy industry," said Litro Gas Lanka Director Sales and Marketing Janaka Pathirathna. "In introducing this new product, we are bringing Sri Lanka in line with global trends and developments that offer innovative insights in meeting customer needs."

Litro Gas Lanka maintains a strong market presence with a network of 42 distributors, over 14,000 points-of-sale, 1,500 home delivery hubs and a seamless supply of LPG throughout Sri Lanka, via the Home Delivery App, meeting multiple needs of consumers, industries and businesses across segments.