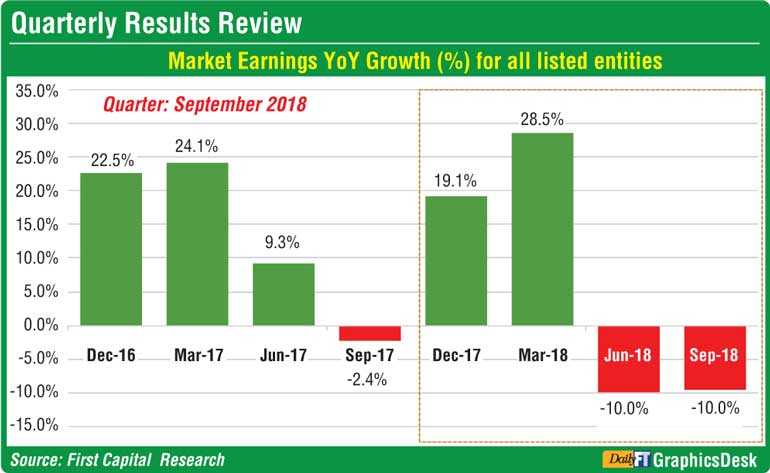 ---
Dip suffered by Food, Beverage and Tobacco, Telecommunication and Materials sectors outweighs positive momentum experienced by banks and insurance segment
Listed companies earnings in the 2018 September quarter have declined by 10% to Rs. 54.3 billion from an year earlier, First Capital Research revealed yesterday.

The broking firm had researched interim results of 267 companies and the September quarter performance matched the 10% decline suffered in the June quarter as well. It said the decline was primarily due to the sluggish performance in the Food, Beverage and Tobacco (-31% YoY), Telecommunication (-36% YoY) and Materials (-68% YoY) sectors which outweighed the positive momentum experienced by Banks (+14% YoY) and Insurance (+217% YoY) sectors. First Capital said a lacklustre performance in the Food, Beverage and Tobacco, Telecommunication and Materials sectors was mainly due to the lower consumer spending stemming from subdued economic growth.
A profits dip in Carsons and Bukit Dhara (due to a loss of Rs. 943 million as a result of a change in fair value of financial assets, deferred tax of Rs. 442 million and Rs. 821 million in foreign exchange loss) and CCS (due to a decline in volumes as a result of sugar tax) caused the -31% YoY decline in Food, Beverage and Tobacco sector earnings.

Amidst the heavy depreciation in the rupee, Dialog Axiata recorded a forex loss which led to a -54% YoY decline in earnings leading to a - 36% YoY dip in Telecommunication sector earnings.

A dip of 68% YoY in Material sector earnings was a result of a 90% YoY dip in earnings of Tokyo Cement due to a slowdown in economic activities.

First Capital said banking sector earnings posted a +14% YoY growth to Rs. 17.7 billion while continuing to be the largest contributor to overall earnings.

Commercial, HNB and Sampath, being the largest banks in terms of asset base, contributed 72% to total banking sector earnings.

"Improved earnings during the quarter resulting in higher interest rates prevailed in the market thereby improving margins and spreads which negated the effect of increase in impairment provisioning under IFRS 9," the broking firm added.

It said the twofold growth in Insurance sector earnings was due to phenomenal growth in earnings of Union Assurance (Rs. 1.6 billion) and Asian Alliance (Rs. 2.3 billion) resultant to the reversal in deferred tax assets in the life insurance business.