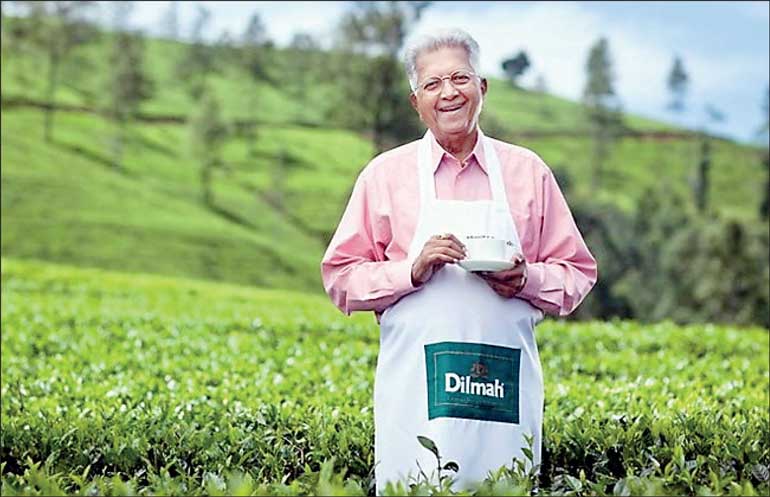 Merrill Fernando's life and business creation history is what every youth should study to learn how and what this single human being achieved for this nation, its people and youth
He wanted to start his own brand for the sole reason of resurrecting the purity of Ceylon Tea to reflect how Lanka's tea tastes as per the soil, without marring this uniqueness with any dilution. Above all he wanted to do good with profit. He wanted to be a source of creating happiness and equality. He would go onto to do exactly this, directing billions into charity, conservation of intangible and natural heritage, upgrading the lives of plantation workers and most importantly creating thousands of new environment protection and food security centric entrepreneurs from every corner of the country
By Surya Vishwa

Thank you Merrill Fernando, the fervent supporter of Sri Lanka's traditional knowledge.

This is an appreciation, for what Merrill Fernando, who died at age 93 last Thursday, 20 July 2023, did to safeguard, conserve and promote the natural and traditional medicinal heritage of the country. What few may know unless they read his biography is that Merrill hailed from a family of traditional physicians. His grandmother and grand aunts were physicians, renowned for providing eyesight and cataract based treatments.

As the Harmony page, begun on 6 July, 2019, as an initiative providing a holistic media experience, completes its fourth year, we pay tribute to Merrill Fernando, who appreciated this FT based initiative, to the extent of offering to publish the Harmony page content, back in 2021. This was in the midst of the pandemic fear psychosis. Scant attention was paid to the traditional knowledge centric knowledge or the efforts of hundreds of traditional paramparika physicians. These physicians were explaining to people that COVID was a form of sempathrishyawa (flu strain) and could be avoided or cured easily by strengthening the immune system with even the basics of traditional plants and herbs. Many of these physicians, mostly the younger and the bolder of the lot, were developing medicines which were curing COVID patients in less than three days.

The Harmony page dedicated much of its space to educating the public on traditional food and medicine and featured narratives of traditional physicians, intangible heritage promoters such as Prof. Nimal de Silva and indigenous health specialists such as Chef Publis. Significantly, during this time we translated and serialised components of the book Hela Weda Athpotha authored by Traditional Medicine Physician Palitha Shri Gagana Arachchige and published by Dilmah. The book had extremely useful home remedies for immunity boosting through a series of Kola Kendha (leafy broth) and we specifically highlighted these.

On these efforts, of the appreciative comments received, the most notable was by Merrill Fernando, the icon of not just Pure Ceylon Tea, but the man behind the vision of using tea to mainstream Sri Lanka's herbs, introducing a wide range of herb based tea products and through different projects conserved the traditional and natural heritage of Sri Lanka.

Offering to publish all Harmony page writings in book form he went to the extent of emailing the staff of the publishing branch of his company which has printed many books pertaining to heritage conservation. However, it was the view of the Harmony page team that we had not done enough by then in terms of volume to merit a stand-alone book.

Merrill Fernando generally exuded a Westernised image which would make one surprised that he had such a respect and understanding of traditional medicine which is the base on which he and his sons Dilhan and Malik initiated many of the Dilmah CSR and business initiatives conserving and educating about Sri Lanka's natural heritage. In the extensive biography published by Dilmah in May this year commemorating his 93rd birthday, Merrill Fernando shared the upbringing he received in his village of Pallasena in Negombo which gave him the foundations of the ethic that he moulded Dilmah upon.

Human beings are born daily and one day they will die. When alive many get carried away with one thing – the attitude they create for themselves – their own special world view which shapes who they become and what they make of their lives.

Many start businesses. Most get drowned in the rat race for profit. Philanthropic idealism is not something easily connected with profit making in the business world. Most businesses are created with the intention of profit – but profit sharing or a particular humanistic passion larger than oneself that precedes such a business is not common. In fact, if it were common, this world would be a different place.

Merrill Fernando's dream as a young man in his late twenties, having by then witnessed how Sri Lanka's tea industry had nothing to do with Sri Lanka and that its profits were directed to the then colonial hub of tea, London, was to change this. He saw how Sri Lanka's tea was mixed with diverse low quality tea from other countries and passed off for Ceylon Tea. He witnessed first-hand that the profits did not get to the plantation workers, in whose hands the entire industry rested.

He wanted to start his own brand for the sole reason of resurrecting the purity of Ceylon Tea to reflect how Lanka's tea tastes as per the soil, without marring this uniqueness with any dilution. Above all he wanted to do good with profit. He wanted to be a source of creating happiness and equality. He would go onto to do exactly this, directing billions into charity, conservation of intangible and natural heritage, upgrading the lives of plantation workers and most importantly creating thousands of new environment protection and food security centric entrepreneurs from every corner of the country.

His sons would take on the reins from him with the same fervour. This was reflected in the launch of the Genesis lab launched earlier this year, in the same premises that Dilmah started – at No. 52 Maligawatte Road in Maradana, to support, help and guide young entrepreneurs take to world-class sustainability centred food products.

Thus the life that ended on 20 July was one that was moulded – by that individual who steered that life – to be made worth living. A life worth living is one that broadens the individual mindscape to include the wellbeing of others while incorporating one's own wellbeing. This is the core teachings of all religions.

Hence the life and death of Merrill Fernando should teach us that we should keep our bodies healthy towards the goal of a long life so that each day we live here on earth would benefit another human being.

The life of Merrill Fernando is over – ours too are getting there – but how much have we done for our country and our people? Some time back we featured an article on the philosophy of Ikigai – a practice based mindset practiced in the island of Okinawa, South of mainland Japan. We explained how in the Ikgai philosophy it is about finding purpose – a mission to change something for the better – something that we have a passion for and which is for a greater good beyond the material while not disregarding material needs of the individual. These are aspects we forget about in the rush 'to do' things.

In witnessing lived in experiences all around us we can see how people get ambition all wrong. They want careers and money but the passion to a greater service to humanity is hardly figured in these plans.

Hence, Merrill Fernando's life and business creation history is what every youth should study to learn how and what this single human being achieved for this nation, its people and youth.

Much of his philanthropy and youth entrepreneurship supporting work was carried out without media publicity, going well against the grain of the modern CSR model.

In summary this is what we can learn from the life of Merill Fernando:

Know the context of the nation in which you launch your business and cater to its social scenario and towards the betterment of it.

Money making and humanism are not two separate things but two sides of the same coin.

A beverage based business knows no bounds for innovation and the best way to go about it is to pave a way for studying to the maximum the resources of the nation.

Once having thus studied, work towards all factors where the nation, people and the resources will be protected, respected and promoted. Work gradually towards an integrated model.

Business creation does not happen overnight – patience is key. The biography of Merrill Fernando points out how he was scoffed at when, as a young man still quite new to the tea industry, he revealed his dreams of starting his own tea brand to promote pure Ceylon Tea and helping others.

About two decades after his youthful revelations, Merrill Fernando started doing exactly what he declared that he wanted to but when he shared it with others as a younger person, it then seemed unrealistic. The biggest lesson for us in this is perseverance.

Persevere. Persevere. Persevere. Only you know your dreams. There is nothing to do expect to fulfil it and the more of humanity you wish to serve as part of your money making endeavour, the secret law of the universe that surrounds us would support you.

What Sri Lanka has right now is a crisis of lack of honesty, knowledge, will, determination, creativity and goodwill. Hence lives such as those of Merrill Fernando are those who would for years to come inspire and shape the minds of the younger generation towards creating authentic wellbeing through profit-making business.