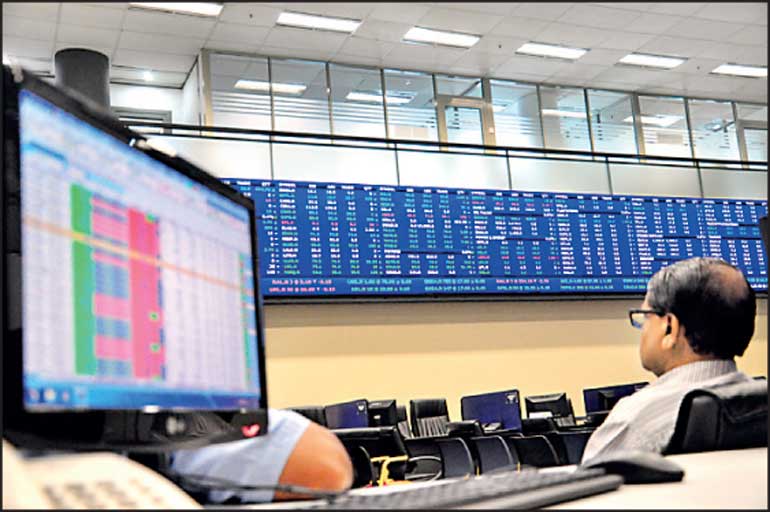 The Colombo stock market managed to close the week on the up after a mid-week struggle as local investor sentiment remained mixed whilst foreigners stepped up buying.

The ASPI gained 63.46 points (+0.66%) during the week while the S&P SL20 gained 16.97 points (+0.60%). Daily turnover averaged Rs. 1,531 million, declining from Rs. 2,744 million last week.

The market saw net foreign inflow of Rs. 600 million to increase the year to date figure to Rs. 3.9 billion as opposed to a net outflow of Rs. 17 million last week.

Asia Securities said the indices ended the week on a positive note on Friday amidst lacklustre investor activity. Following Thursday's profit-taking session, GLAS (+5.4%), TKYOX (+1.1%), SAMP (+2.0%), COMBN (+3.3%), HNBN (+1.7%), and HHL (+1.5%) returned to green territory while TILE (-12.6%), EXPO (-0.9%), SCAP (-0.8%), TKYON (-0.4%), AEL (-1.3%), and PACK (-1.2%) recorded price losses during the session.

COMB (+18 points), HAYL (+10 points), and SAMP (+10 points) ended as the major index movers while TILE (-5 points) and CTC (-3 points) came in as the top laggards on the ASPI.

Turnover yesterday was led by HAYL (Rs. 140 million), MELS (Rs. 139 million), and TKYOX (Rs. 84 million). Crossings accounted for 12.6% of turnover with 2 crossings recorded in MELSN (Rs. 134.3 million) and 1 crossing in JKH (Rs. 2.6 million).

Foreigners generated a net inflow of Rs. 209 million driven by net buying in TKYOX (Rs. 44 million), CICX (Rs. 27 million), JKH (Rs. 23 million), and HAYL (Rs. 21 million). Selling topped in EML.N at Rs. 12.8 million.

First Capital said the bourse closed in green and held its upward momentum during Friday's session to close the day at a 1-week high of 9,670, gaining 74 points. The banking and energy sector counters remained the top contributor to the index whereas profit-taking was extended on TILE due to the ex-dividend (XD). Activities also took a dull turn as investors took a side-lined approach with the expectation on the IMF board level agreement to be inked on 20 March 2023.

NDB Securities said high net worth and institutional investor participation was noted in Melstacorp and John Keells Holdings. Mixed interest was observed in Hayleys, Tokyo Cement Company nonvoting and Lanka Tiles whilst retail interest was noted in EML Consultants, Browns Investments and Alumex.

The Capital Goods sector was the top contributor to the market turnover (due to Hayleys, John Keells Holdings and Lanka Tiles) whilst the sector index lost 0.12%. The share price of Hayleys increased by Rs. 1.80 to Rs. 81.00.

The share price of John Keells Holdings recorded a loss of 50 cents to Rs. 144. The share price of Lanka Tiles declined by Rs. 6.80 (12.57%) to Rs. 47.30.

The Food, Beverage & Tobacco sector was the second highest contributor to the market turnover (due to Melstacorp) whilst the sector index increased by 0.37%. The share price of Melstacorp gained 20 cents to Rs. 57.

Tokyo Cement Company nonvoting was also included among the top turnover contributors. The share price of Tokyo Cement Company nonvoting moved up by 50 cents to Rs. 46.