Calls on public to share details
Wants to collect data on job losses to provide relief
Latest data to support larger survey to evaluate virus impact launched in 2020
---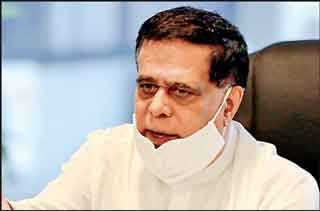 Labour Minister Nimal Siripala de Silva
---
The Labour Ministry yesterday called for workers who have lost their employment due to the pandemic to send in their information, including salary details, so the Government can evaluate the requests and
see if relief can be provided. A statement from the Ministry said this latest measure also included self-employed individuals who lost their source as a result of COVID-19.

Those who had suffered job losses were asked to send in their personal details, the name of the company they were employed at, duration of service and the amount of basic salary they received at the time of redundancy. The information must be sent by 1 April.

"After evaluating the responses, the Ministry will attempt to see if these people can be offered some kind of relief," the statement added. Details can be mailed to the Commissioner General of Labour, phoned in on 0112368502 or emailed to irlabur456@gmail.com.

At the beginning of February, the Department of Labour launched the second phase of its survey on the impact of COVID-19 and beyond on businesses and their employment level as a follow-up to the inaugural exercise done mid-2020. The first e-survey conducted in April 2020 provided valuable insights that were helpful to appropriate policy recommendations.

The ongoing survey hopes to capture the status of employment, both current and future, which will provide essential clues in identifying gaps and structural adjustments that need to be made to protect both the employee and the employer.

The initial e-survey carried out in April 2020 indicated signs of contractions, with an estimated 64% of the labour force remaining in homes without work at the time of survey. Further, foreseeing future loss of businesses, employers had commenced staff downsizing accordingly.

The Labour Department said it was keen to further assess the implications on employment, employees and employers, and recommend suitable strategies to avoid loss of jobs as well as protect stakeholders.