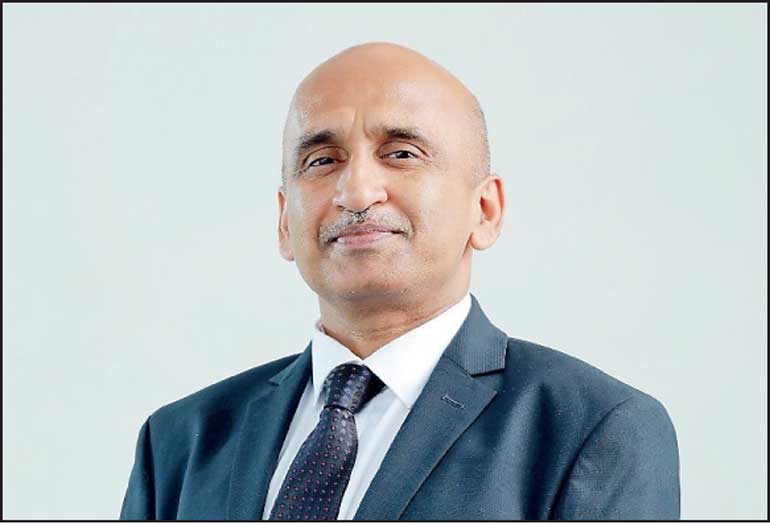 Lanka IOC Managing Director Manoj Gupta
---
Lanka IOC (LIOC) yesterday said its perseverance yielded impressive results in the third quarter for FY23.
In a statement LIOC said it remained resilient in its approach, continuously striving to steer through the adversities and stiff challenges confronted due to dearth of foreign exchange, steep rise in inflation, high volatility in international oil prices and country ratings down-gradation, to name a few.
While the economic conditions remained tough, LIOC performed remarkably to circumvent the constraints to ensure regular fuel supplies for the country.
Irrespective of the turbulent business environment, LIOC succeeded in strengthening its robust performance during first and second quarter of FY23 and registered splendid performance for the Q3 22-23 as well with remarkable increase in revenue by nearly 225 % YoY from Rs. 22.99 billion to Rs. 74.87 billion for the quarter, mainly in view of the high international oil prices as compared to the last year.
With rise in market share in retail fuel segment pursuant to enhanced consumer confidence, the Sales volume during the quarter increased from 132,761 MT to 158,162 MT with YoY volume posting an increase of nearly 19%. LIOC has posted Net Profit after Tax of Rs. 8.23 billion for the quarter.
The earnings per share of the company during the quarter also increased from Rs. 1.7 in Q3 of previous year to Rs. 15.5 during Q3 2022-23, reflecting LIOC's relentless pursuit to maximise return for stakeholders.
However, with extremely high borrowing costs and unprecedented LC confirmation costs due to significant country risk perceived by banking institutions, the finance costs during the quarter were nearly Rs. 655 million as against Rs. 270 million Y-o-Y, significantly affecting Q2 performance. The introduction of Social Security Contribution Levy w.e.f 1 October 2022, also led to an additional outgo of Rs. 753 million during the quarter.
LIOC Managing Director Manoj Gupta said: "With our commitment to ensure regular and uninterrupted fuel supplies to the nation while maximising value creation for our stakeholders and also returning back to the society, we shall continue our efforts to not only live up to the expectations but also go beyond.
"We feel happy in sharing that LIOC has enhanced its footprint in the country with commissioning of 14 new sheds in a record time of the last one month. We promise to enhance our role in the energy security of the country by opening up many more sheds in the coming months."
The company was granted approval by the Government for opening up 50 new retail sheds. Considering the earlier approval of 46 new sheds already with the company, LIOC is in the process of finalising the processing commissioning around 60 new sheds by March 2023 across the length and breadth of the Island Nation which shall further strengthen its national presence and act as a testament to its playing a national role in meeting country's energy requirements.
Gupta further stated that while all the business verticals of LIOC remain committed to contribute, Bunkering and Lubricants continue to face stiff competition mainly due to demand uncertainties in view of economic slowdown and sharp fluctuations in the international oil prices for which the company is leaving no stone unturned in taking appropriate measures, in their efforts to close the financial year with an unprecedented financial and operational performance.
The periodical revision in Retail Prices (RSP) of auto-fuel in line with the common pricing formula has been beneficial for the company as well as the people at large in view of recent RSP reductions which LIOC has also implemented in line with CPC prices. However, the significant volatility in the international oil prices due to geo-political factors continues to remain a cause of concern, which adversely affects the decision making process.
LIOC also continued to demonstrate its virtue of giving back to society by putting words into action and donating for a worthy cause of upliftment of Elder's Home that house several elderly individuals having complete dependency on philanthropy receipts by such old age homes. Recently, LIOC has also signed an agreement with MEPA, Sri Lanka for taking up cleanliness of two beaches at Dehiwala and Modera for a period of one year to support a clean seas campaign by reducing marine pollution. This shall also involve supporting the livelihood of the families of beach cleaning staff for the entire duration. In addition, LIOC has regularly contributed to Government hospitals by donating essential medicines for the help of needy patients.
Despite the innumerable constraints, LIOC said its performance has been exceptional with sharp focus on growth and sustainability powered by an inspiring leadership and strong fundamentals for meeting the energy needs of the country uninterruptedly with a commitment to maximise returns to its nearly 14,000 shareholders, along with other stakeholders.