By Chathuri Dissanayake

Promising to toughen regulations and run a tight ship during the upcoming Local Government elections, described as the largest national election to be held in Sri Lanka's history, the Election Commissioner yesterday said polls would cost a staggering Rs. 4 billion.

The Local Government polls, set to be held before 17 February next year under the new mixed system, will require 300,000 state employees including police and other service providers, to elect 5,092 members to 341 Local Government bodies, while another 3,259 will be elected uncontested.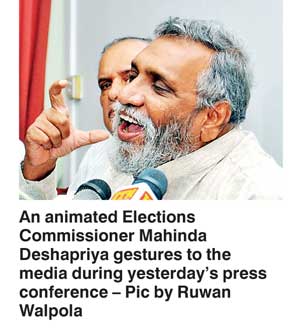 Election Commission Chairman Mahinda Deshapriya told the media that the original estimate of Rs. 3.5 billion had to be revised due to increases in the salaries of government servants and other prices hikes such as fuel prices.

"The estimate was done during the first quarter of this year. But prices have gone up. The salaries of Government servants are to increase from January so payments for overtime will increase accordingly. The allowance given to government servants has increased from Rs. 350 to Rs. 700 as well. Then we have to think of backup power supply for each counting station and transport cost increases. So the cost will reach Rs. 4 billion," he said.

According to the new system, 60% of the members will be elected on a first-past-the-post basis and 40% through the proportional representation system. The delimitation process saw the creation of new wards and the merging of old ones while the number of members is set to double. The largest local government body, the Colombo Municipal Council, will have 113 members while the smallest, Akkaraipattu, will only have 11 members, Deshapriya revealed.

The election is the largest ever to be held in the country on a single day, with all polling stations being converted to counting stations after polling closes at 4.00 p.m. on Election Day. Deshapriya pointed out that this results in a requirement for additional police personnel to be deployed to provide adequate security for each counting station.

The Election Commission will ensure more stringent implementation of election-related laws this year, Deshapriya said. All election-related regulations which were earlier issued through circulars in the form of an advisory will be gazetted this year as a directive to be followed by all.

Among the instructions to be issued, the Commission will be strict on enforcing the prohibition on using any religious place for election campaigning or promotional work, Deshapriya said.

Further, the gazette will also prohibit the use of government resources for any political campaign work, transfer of government servants, holding any rallies, vehicle parades for campaign work and distribution of goods of any kind for election-related promotions.

"We urge all religious leaders to support us to implement the law. This law, although it was in existence, was not implemented earlier. But now if a politician takes part in a religious ceremony and gives a comment to a journalist, this will also be considered a violation of the election law," the Commission Chairman warned.

Deshapriya said that he requested the police to use "maximum force" in enforcing all election-related regulations. The Commission is to hold a meeting with the Police on the matter on Thursday.

He also said that all returning officers and police have been instructed to ensure that no candidate sitting for the Ordinary Level examination would be hindered in any way due to election-related activities.