Raises $ 8 m facility to further strengthen its dollar funding on top of $ 15 m obtained in May 2021
---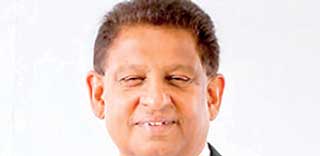 LB Finance Managing Director Sumith Adhihetty
---
LB Finance PLC (LBF) recently secured a $ 8 million facility for the purpose of driving the company›s support to Sri Lanka›s micro and SME sector.
Funded by multiple funds managed under the stewardship of the responsAbility Investments AG, a Swiss-based impact investor with a vision to develop micro and SMEs. Alpen Capital, a financial advisory firm based in Dubai was the lead arranger of the deal.
The $ 8 million from responsAbility Investments AG is the second dollar facility obtained by LBF to coincide with its 50th anniversary in 2021 – the first being $ 15 million obtained in May 2021 from FMO, the Dutch Entrepreneurial Development Bank.

Similar to the previous $ 15 million loan, the current $ 8 million would be directed towards continuing the company›s efforts to provide credit and other financial services to micro, small and medium-sized enterprises who are largely excluded from the formal financial system and as such have little or no access to credit or any other financial services. On this basis, the company hopes to create opportunities for the micro and SME sector as a whole to play a more decisive role in national progress.

Commenting on the significance of the loan, LB Finance Managing Director Sumith Adhihetty said: "We at LB Finance are extremely proud to be one of the few private sector organisations to be able to secure a long-term dollar funding, not once but twice during the span of a few months and that too during the pandemic.

"Being able to attract dollar loans to the country at this crucial time, I believe speaks volumes of the resilience of LBF›s business model, the robustness of our strategy as well the strength and stability of the company›s balance sheet."

responsAbility Investments AG Co-Head of Financial Inclusion Debt Martin Heimes said: "We are extremely pleased to announce our partnership with LB Finance which has allowed us to provide sustainable financing to Sri Lanka›s micro and SME sector. In deciding to work with LB Finance; A- rated institution with a solid track record and longstanding industry reputation – we are very confident we have made the best choice to help realise our impact intentions."

LB Finance was incorporated in May 1971 and was listed on the Colombo Stock Exchange in 1997. Backed by a strong financial tradition of 50 years coupled with local experience, LBF offers a portfolio of financial solutions trusted widely by corporates, SMEs and individuals alike.

Today, the company has an established, scalable, and a sustainable business model. In recent years, LBF has strategically expanded its operations beyond the shores of Sri Lanka to Myanmar, where the company has set up seven branches in the Bago and Migway regions with a view to promoting financial inclusion and bringing prosperity to the people of Myanmar as well.

As at 31 March, the company employed 3,606 men and women from Sri Lanka. With frequent recognition on multiple platforms, LB Finance PLC is one of the most awarded financial institutions in the country.

At the recently concluded 56th annual CA Sri Lanka Annual Report Awards 2021, LB Finance PLC secured the overall Bronze award for the second consecutive year and won the Gold award in the NBFI Sector (for the fourth consecutive year). Also, at the same forum, LB Finance PLC was awarded a special recognition award for the most transformative and digitised annual report – a special category award created for the first time in the history of the awards.

A leading impact asset manager with an 18-year track record, responsAbility manages $ 3.6 billion of assets invested in over 273 ESG-managed high-impact companies across 73 emerging economies. Since the company›s inception in 2003, responsAbility-managed funds have invested over $ 11 billion in private debt and private equity with companies in the sectors of sustainable food, financial inclusion and climate finance whose business models directly support the United Nation›s Sustainable Development Goals (SDGs).

responsAbility is headquartered in Zurich, Switzerland, and has local offices in Bangkok, Lima, Mumbai, Nairobi, Oslo, Paris and Tbilisi. Owned by various reputable Swiss and international financial institutions, private investors and its own employees, responsAbility is registered with the Swiss Financial Market Supervisory Authority (FINMA).

Alpen Capital is a leading investment banking advisory firm which offers a full range of advisory services in the areas of M&A, Debt, Equity and Capital markets. It also brings out Industry research reports on various sectors. Alpen Capital has offices in Dubai, Abu Dhabi, Doha, Muscat, and New Delhi.

With local know-how and regional expertise, Alpen Capital has executed transactions for some of the largest business conglomerates and financial institutions in the GCC, South Asia, Levant and Africa.