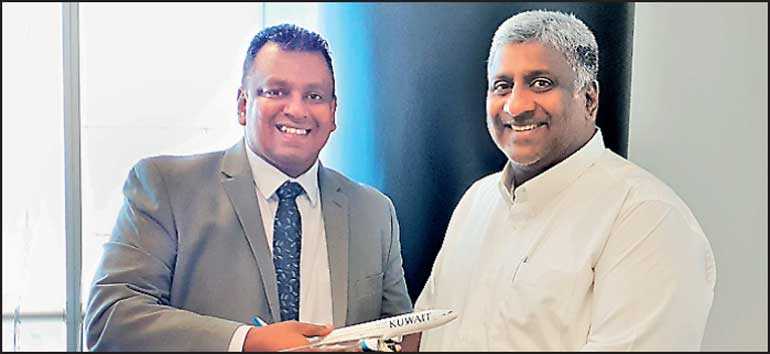 Kuwait Airways Country Manager for Sri Lanka and Maldives Sudesh Rupasinghe with Tourism Minister Prasanna Ranatunga
---
Kuwait Airways, national carrier of the State of Kuwait yesterday hailed the Sri Lankan Government's efforts to boost tourism and rejuvenate air travel into Sri Lanka and overcoming the challenges posed by the COVID-19 pandemic.

The Airline whose colourful history in Sri Lanka extends back over four decades and had previously resumed scheduled operations to Sri Lanka from 28 January 2021, coinciding with the upcoming airport reopening in the country is set to ramp up its operations to Sri Lanka by increasing its operating frequencies into Sri Lanka's sunny skies on 13 March.

Kuwait Airways Country Manager for Sri Lanka and Maldives Sudesh Rupasinghe said, "Despite the numerous setbacks faced globally by the COVID-19 pandemic, now that Kuwait Airways has resumed services to Sri Lanka, we are truly looking forward to enhancing our frequencies to meet the tourist demands in to Sri Lanka. Kuwait Airways was recently rated as a Major Five Star Airline for the year 2021.

"We look forward to working closely with Sri Lanka Tourism in this regard and applaud the untiring efforts of the Ministry of Tourism, spearheaded by both the Minister of Tourism Prasanna Ranatunga and State Minister of Aviation and the Civil Aviation Authority, most ably led by the Chairman and Director General, the Secretary and Ministry of Foreign Affairs of Sri Lanka and of course the National Operations Centre for prevention of COVID-19 and the SL Army, Airport and Aviation Services and the Ministry of Health, in these challenging times which have led to the successful reopening of Sri Lanka's borders.

"Further, we are sincerely appreciative of the Sri Lankan Government's efforts to promote tourism to both Bandaranaike International Airport as well as Mattala Rajapaksa International Airport, providing viable and attractive options highlighting the excellent potential for airlines. It is also our intention to strengthen our existing ties with the Government of Sri Lanka and we aim to provide all our passengers our full complement of services."

As always, Kuwait Airways' commitment and passion to deliver the best quality inflight services and the ultimate in passenger comfort and luxury remains unbowed and has constantly driven the airlines' rapid growth and expansion, which includes their top of the range fleet including B777-300's and most recently brand-new Airbus A330 and A320 neo aircraft.

The airline aims to fly to as many serviceable prime destinations as possible in the current COVID-19 situation, all Kuwait Airways flights are serviced by the world's youngest fleet which includes the airline's flagship Boeing 777-300ER and Airbus A320 neo aircraft operating out of Kuwait which is indeed good news for travellers.

The new additions to the world's youngest fleet will commence operations in and out of Colombo in accordance with the guidelines laid out by the Government notably that all passengers must have a printed medical certificate with a negative PCR result (taken at most 96 hours prior to departure) and coupled with the airlines current destinations will give Kuwait Airways the opportunity to offer a vastly improved and superior quality product coupled with one of a kind levels of service and luxury on board one of the best First and Business class cabins available today. Regrettably though, passengers who have been in or transited through the United Kingdom in the past 14 days will not be permitted to enter or transit Sri Lanka due to the detection of a new variant of the COVID-19 virus.

To date, Kuwait Airways has been the only airline offering a consistent First and Business Class operation, flatbed and Wi-Fi on all flights from Colombo, further complemented by the luxurious First-Class cabins on the Boeing 777-300ER aircraft operating out of Kuwait which includes 80 degrees pitched, full flat beds, private suites, and full aisle access and connect to all major hubs in Europe, USA and the Middle East with convenient connections.

Further, passengers will be treated to an enhanced baggage allowance and free membership in Kuwait Airway's Oasis Club Frequent Flyer program on resumption of operations as an added benefit.