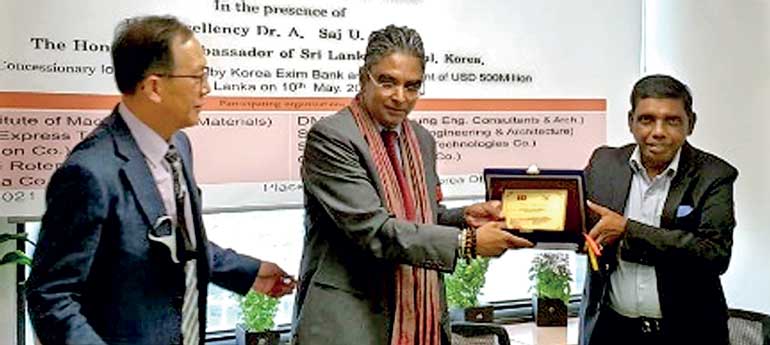 KCI Metro Link President Dr. P.R.I. Michael presenting a memento to Ambassador Dr. A. Saj U. Mendis after the signing ceremony of the MoU. GBK Consortium CEO Dr. Byung Chun Shin is also present
---
KCI Metro Link Korea Company Ltd. and the GBK Consortium Ltd. of the Republic of Korea have signed a Memorandum of Understanding (MoU) to conduct a feasibility study in order to construct an LRT line from Negombo to Colombo via Bandaranaike International Airport of Colombo as well as a mixed development project.

The MoU was signed between KCI Metro Link Korea Company Ltd. President Dr. Parimalam Rajo Isa Michael and GBK Consortium Ltd. CEO Dr. Byung Chun Shin last week in the presence of the Ambassador of Sri Lanka to the Republic of Korea Dr. A. Saj U. Mendis.

In this regard, the consortium is to utilise approximately $ 500 million concessionary loan of the Korean EXIM Bank extended to Sri Lanka and to raise well over a $ 1 billion from international investors and money centre banks.
"This mega project could transform the entire sphere of connectivity in the Colombo District, thus establishing greater connectivity between and amongst cities and villages in the district. This mega development project could elevate the District of Colombo as one of the more efficient and connected districts not only in South Asia but in the entire Continent of Asia," a statement from Sri Lanka Embassy in the Republic of Korea said.

At the signing ceremony of aforementioned MoU, which was attended by over 15 members of the Consortium and potential investors, Ambassador Dr. Mendis addressed the gathering after the conclusion of the signing ceremony.

Dr. Mendis stated that world over be it advanced economies or developing economies, connectivity or highways had played a critical, decisive and seminal role in economic advancement and augmentation of the countries.

In this context, Dr. Mendis delineated a number of countries, including the Republic of Korea and Malaysia, which had rapidly developed due to connectivity. Further, Dr. Mendis stated that Sri Lanka, at this juncture, was very well positioned and very well poised to receive Foreign Direct Investments (FDI) and Foreign Institutional Investments (FII) since all foreign investments were protected by the Constitution of Sri Lanka.

Dr. Mendis stated that today Sri Lanka was where the Republic of Korea was in late 1980s, approximately 30 years ago. He added that key and determining attributes such as political stability, rule of law, conducive investment environment, human and natural resources and potentiality, to name a few, were well pronounced and present in Sri Lanka, thus making the country a potential Mecca for FDI and FII in the region.

He also equated the current stage of the economy of the country to an equity market/stock market which was about to rise. He stated that most equity markets begin to rise with scepticism, they rise with pessimism, they peak with optimism and they crash with euphoria. Dr. Mendis urged and entreated the potential investors to seize and capture the opportunity of the economy of Sri Lanka similar to an equity market about to rise, since the economy of Sri Lanka was at the first stage of beginning to rise.