Enterprise Asia recognises Herath's work with regional award for outstanding entrepreneurship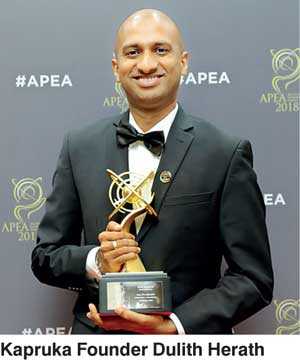 Sri Lanka's e-com pioneer Dulith Herath was recently presented with the 'Asia Pacific Retail Entrepreneur of the Year' award. The award presented by Enterprise Asia celebrated Herath's influence upon the local online retail sector by starting Sri Lanka's first e-com site Kapruka.com.
The award also credited his recent work to reinvent the e-com sector through projects like 'Grasshoppers' that provide convenient last mile delivery solutions that are essential for pushing the growth of online retail. This marks the second time that Herath was awarded by Enterprise Asia within the last four years.


Enterprise Asia is the Asian continent's leading non-governmental organisation for entrepreneurship. It strives to create global economic equality, by encouraging entrepreneurship in Asia as a mean to drive sustainable and progressive socio economic development. Asia Pacific Entrepreneurship Awards have conducted its regional award programme annually since 2007 to discover and celebrate distinguished entrepreneurs in the region.


Enterprise Asia recognised three key aspects in Dulith Herath's work with his most recent Asia Pacific Entrepreneurship Award—successfully benchmarking against best practices, continuing past and current efforts in entrepreneurship and winning public attention that reciprocates the influence of his work.


Herath's first brainchild Kapruka.com was the pioneer in Sri Lanka's e-commerce sector, introducing the convenience of online retail and its exponential opportunities for business, to the island. Herath conceptualised Kapruka.com's most recent major undertaking with 'Grasshoppers' last-mile delivery system, in a way that encourages entrepreneurship among other Sri Lankans from across the island, pushing forward the principles of a collaborative economy in a big way.


This initiative to share and create opportunities to encourage entrepreneurship among others while setting exemplary practices and thinking as an entrepreneur himself, were particularly admired by Enterprise Asia, and was among the major reasons to recognise Herath's work for the second time through the Asia Pacific Entrepreneurship Award in 2018.