By Ashwin Hemmathagama

Opposition lawmaker JVP MP Vijitha Herath yesterday moved a private Members' Bill to amend the Constitution to abolish the Executive Presidency.

This will be the 20th Amendment to the Constitution if it receives House approval.

MP Herath, who was granted leave to introduce the Bill said: "Many candidates offered to abolish the Executive Presidency at the last Presidential Election. This matter also came up at different forums that discussed amending the Constitution. Even though abolishing of the Executive Presidency was considered at the point of moving the 19th Amendment, nothing of that sort happened."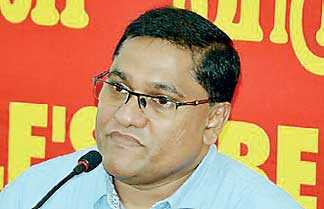 Criticising what he termed as the lethargic process followed to draft a new Constitution, MP Herath said: "The Constitutional Assembly started drafting a new Constitution, but it appears to be taking a long time. From the point of the public, in order to establish democracy in this country, the Executive Presidency should be abolished. This Bill is aimed at abolishing the Executive Presidency as the 20th Amendment to the Constitution. We think the large amount of power entrusted to one person is an issue that needs to be changed. We seek Parliament approval to pass this Bill and public support to establish a civilised country."

The Bill mainly proposes amending Article 4, 30, 31, 33, 34, 35, 37, 38, 39, 40, 41, 41c, 42, 43, 44, 46, 48, 50, 51, 52, 65, 70, 80, 85, 88, 89, 92, 93, 94, 99, 111C, 129, 153, and 156 of the current Constitution. Subsequently, the Bill was referred to National Policies and Economic Affairs Minister Ranil Wickremesinghe under Standing Order 52 (6) of the Parliament. Chief Opposition Whip Anura Dissanayake seconded the motion.