Executive Directors on Board take 60% pay cut; Non-Executives agree to similar reduction in fees
5% to 35% cut in pay for other Executives earning above Rs. 50,000
Chairman Balendra says COVID-19 impacting performance of business across all industry groups in unprecedented manner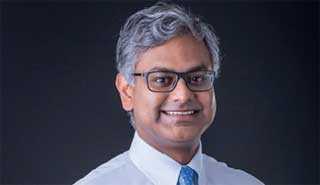 JKH Chairman Krishan Balendra
---
Premier blue chip John Keells Holdings (JKH) has announced a series of cost-cutting measures including pay cuts for Executives and freezing of new recruitment for three months to survive the impact of the ongoing new coronavirus (COVID-19) pandemic crisis globally and locally.

The first listed conglomerate to initiate drastic cost-cutting measures, JKH said the move was to "tide over the current crisis and preserve cash" given the uncertainty in facing the unprecedented COVID-19 challenge.

The crisis faced by the country and the company as well the rationale for the cost cutting was explained in a memo by JKH Chairman Krishan Balendra.

The measures include: Executive Directors (Balendra and Gihan Cooray) will undertake a 60% reduction in salaries; Non-Executive Directors of JKH will also undertake a 60% reduction in their fees; colleagues on the Group Executive Committee will undertake a reduction in basic pay of 35%; a reduction in basic pay for all Executives and above levels across the Group, ranging from 5% to 35%, including the GEC, based on salary level. This will apply to those whose basic salaries are over Rs. 50,000.

Furthermore, travel allowances (excluding the loan deduction component) will not be paid for the next three months; recovery of dues on internally-managed Provident Fund loans will be suspended for this period; there will be a freeze on all recruitment during this time; and capex will not be incurred during this period other than essential capex with the approval of respective business heads.

These measures, Balendra said, would be in force initially for a period of three months (April, May and June) and will be reviewed in June as they monitor the situation as it unfolds.
JKH last week through the Group Executive Committee (GEC) had carefully evaluated all forms of prudent measures to manage operations of each business. "We are now, however, compelled to look at even tougher measures to reduce all forms of expenses, including staff costs," Balendra said.

"In the true John Keells spirit, I am confident that you, our people, will understand the difficult challenges we face together now and also trust that these decisions are taken in the best interests of the Group, and in the end, yourselves as well," the Chairman added.

He recalled JKH started the last financial year with a tragedy (Easter Sunday terror attack), but, "together, we prevailed".

Balendra also noted that although the current COVID-19 pandemic presented challenges the world has never seen before, he was both humbled and proud of the manner in which the John Keells family had, once again, rallied and demonstrated its resilience and commitment to manage this crisis.

"As this crisis continues to unfold, new challenges are being posed every day, impacting the performance of our business across all our industry groups in an unprecedented manner, compelling us to review every aspect of our operations to ensure we stay lean and agile so that we can weather this turbulent storm, and come out stronger, as we have done many times over our 150-year history. Over the years, the hallmark of the John Keells Group has been the ability to re-invent ourselves and take hard calls where needed to ensure that our businesses, and, in turn, our people, flourish in a sustainable manner," the JKH Chairman added.

Balendra expressed confidence that the measures announced, among others, would ensure JKH stays resilient and place it in a position where the conglomerate could emerge stronger than before.

"We are hopeful that the measures put in place by the Government and the collective effort of the people of our country will enable all of us to come out of this situation as quickly as possible," JKH Chairman said.

He recalled that JKH over its history of 150 years as a Group had remained resilient and overcome many challenges during various national and global economic crises.

"We are certain that we will, together with your patience, understanding, support and commitment, get through these difficult times. While there is a sense of uncertainty and gloom throughout the world, we hope that you all stay positive and strong, continue to support each other and our country, and stay close to your families during this time," JKH Chairman Balendra added.