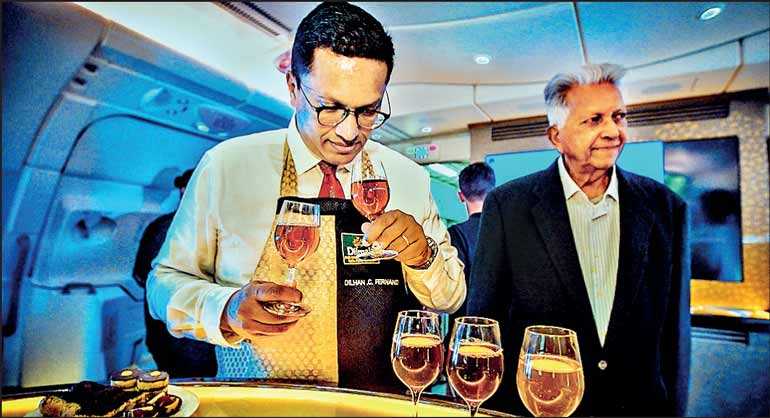 ---
Celebrating 27 years of the perfect brew with the world's highest tea appreciation Masterclass


A Masterclass in the appreciation of Ceylon Tea took place at 40,000 feet when Emirates and Dilmah celebrated a 27-year partnership on board an Emirates A380 flight from Dubai to London this week.

Held at the iconic A380 On-board Lounge by Dilmah Tea CEO Dilhan Fernando and the founder of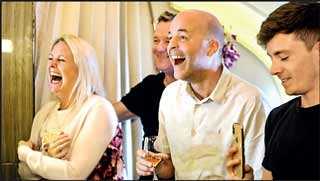 Dilmah Merrill J. Fernando, ahead of International Tea Day on 15 December, the Masterclass was the first of its kind held in the skies.

Emirates and Dilmah have enjoyed a longstanding partnership of brewing the finest teas on board and in Emirates airport lounges around the world. Today, the airline serves a special selection of 12 Dilmah teas catering to the tastes and sensory preferences of all its customers - including an exclusive tea created just for the airline.

"Our commitment to providing a world class dining experience on board runs through everything from the quality of ingredients in our menus to the drinks we serve on board. We have been proudly serving Dilmah tea to our customers for 27 years with a shared dedication to provide our customers with a unique tea experience," said Emirates Vice President (Catering) Darren Bott.

Guests at the master class aboard flight EK31 were also wowed with the world's highest flair bartending show by Tomek Malek, a world champion flair bartender. Tomek also created a special mocktail – the Dilmah Elixir Breeze - for the audience to taste.

Dilmah Tea CEO Dilhan Fernando said: "Our emphasis is on offering customers a signature and therefore uniquely Emirates experience in tea – we have created this with our Emirates Signature Tea which integrates flavours and ingredients that represent the cultural heritage of Emirates Airline. And we continue to create these unique moments in tea with our partner Emirates through money-can't-buy experiences like a tea appreciation Masterclass at 40,000 feet."
A world-class partnership
The airline brings the finest products on board through long standing partnerships worldwide, and supporting local suppliers and artisans. Emirates and Dilmah have grown exponentially since their collaboration began in 1992 and today Emirates, the world's largest international airline takes the Dilmah brand to more than 140 destinations on six continents.

Each year, Emirates brews 33 million cups of Dilmah tea for its customers from a specially curated tea menu available in all classes. The pinnacle of the airline's tea selection is the exclusive Emirates Signature Tea served only in First Class – a single-estate tea made from Flowery Broken Orange Pekoe 1 leaf growing on the Dombagastalawa Estate, in Sri Lanka's Nawalapitiya region. The artisanal tea is made with a sprinkling of marigold and safflower, combined with the sensual fragrance of rose, a firm almond note and a touch of ginger representing flavours of the Middle East.

The teas offered on Emirates are chosen by popularity amongst customers, catering to different preferences like minty or citrus infusions as well as by looking at tea drinking trends. With an increasing focus on wellness amongst customers, the airline recently introduced a new tea in its airport lounges – Turmeric, coconut and vanilla featuring antioxidant properties.

On board, the most popular tea in Economy Class is the Dilmah Ceylon Black Tea while passengers in First and Business Class favour Moroccan Mint and Breakfast Tea. Emirates serves a selection of six teas in Business Class and its airport lounges and a further six teas in First Class.
International Tea Day
To mark the long-standing partnership, Emirates and Dilmah are celebrating International Tea Day on 15 December with all its customers on board. Economy Class passengers flying out of Dubai will be given a special take-away gift set to sample the Emirates Signature Tea and Breakfast in Paradise tea. This is the first time the Emirates Signature Tea will be enjoyed outside of the First Class cabins.

Business Class passengers can enjoy the limited edition Dilmah Elixir Breeze mocktail at the A380 onboard lounge - Dilmah Elixir of Ceylon Tea gently stirred with pineapple juice, cranberry juice and a splash of lime. In First Class, in addition to the entire selection of 12 teas, customers on select routes will be able to enjoy a special high-tea offering of petit fours served with Dilmah English breakfast tea.

Due to popular demand, the Emirates Official Store will also mark the occasion by launching a special Dilmah tea box featuring the Emirates Signature Tea and Breakfast in Paradise. Each box contains 20 tea bags and retails for $ 15 (AED 55). Visit emirates.store for more information.