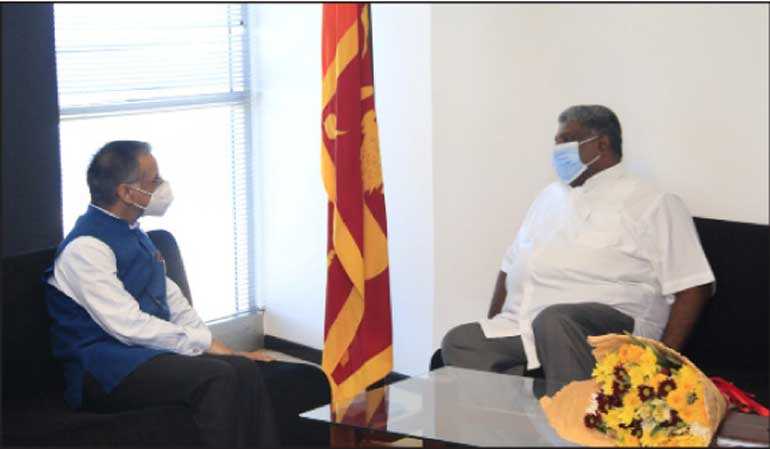 Indian High Commissioner in Sri Lanka Gopal Bagley with Industry, Export, Investment Promotion, Tourism and Aviation Minister Prasanna Ranatunga
New envoy tells Minister Prasanna Ranatunga Indian biz willing to invest in food security, pharmaceuticals, agricultural products, and oil refining
Joint investment program between two countries post-pandemic in the offing
The Government of India has extended its fullest cooperation to boost COVID-19 hit investment and tourism sectors in Sri Lanka. Indian High Commissioner in Sri Lanka Gopal Bagley has assured that the necessary financial, technical and other support will be provided to the investment and tourism sectors.

The Indian envoy gave this assurance during a meeting with the Industry, Export, Investment Promotion, Tourism and Aviation Minister Prasanna Ranatunga this week. The Indian High Commissioner commended the leadership of President Gotabhaya Rajapaksa and the efforts taken by the Government to contain the spread of COVID-19 in Sri Lanka.

The High Commissioner said that Indian businessmen were willing to invest in the areas of food security, pharmaceuticals, agricultural products, and oil refining. He also agreed to implement a joint investment program between the two countries post-pandemic.

The Government of India has provided a grant of Rs. 250 million to construct a business centre to empower new entrepreneurs in the Northern Province and the two sides exchanged views regarding the proposed centre to be set up in the Jaffna Cultural Centre. Minister Ranatunga said that work on the project would be completed soon.

The Indian High Commissioner pointed out that the Indians would like to have their wedding receptions in Sri Lanka and that just as much as Sri Lankans like to visit India, particularly to visit Buddhist places of worship, Indians wish to visit Sri Lanka to visit places related to Ramayana. Minister Ranatunga said that the Tourism Authority has paid attention to this matter.
The meeting also focused on the inauguration of a new housing project in Madhu for both local and foreign tourists. The Government of India has provided Rs. 300 million for this purpose and 144 houses are to be constructed in this manner.

The two parties also discussed the development activities of the Palali Airport in Jaffna. India has allocated Rs. 300 million for the development of the Palali Airport. The Indian High Commissioner and Minister Ranatunga also agreed to expedite the signing of the relevant agreements.

The Indian High Commissioner also inquired about the reopening of the Bandaranaike International Airport (BIA) and the arrival of tourists. Minister Ranatunga expressed confidence that the airports would be able to open by 1 August. Ministry of Industrial Export and Investment Promotion Secretary Mapa Pathirana and Ministry of Tourism and Aviation Secretary S. Hettiarachchi also participated in the discussion.