---
First ever Sri Lanka Survey Report by SLID and E&Y sheds key insights to Board IT Governance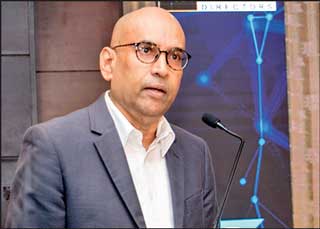 SLID Chairman Faizal Salieh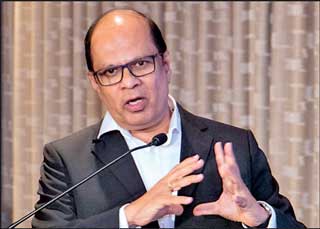 EY Partner Arjuna Herath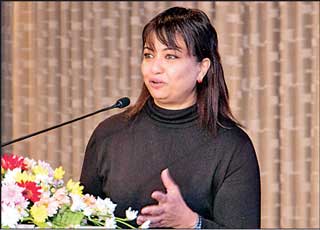 SLID Innovation and Technology Committee Lead Chair Chiranthi Cooray
The first-ever Sri Lanka Survey Report - 2022 on Board IT Governance was launched by the Sri Lanka Institute of Directors (SLID) to an audience of over 100 board directors from top corporates at the Cinnamon Lakeside Hotel in Colombo recently.

SLID Chairman Faizal Salieh in his opening remarks said that IT governance is an integral part of overall enterprise governance, and proper IT governance is now a significant board-level responsibility.

"However, we sensed that there might be significant gaps in our company boardrooms related to IT governance. Directors may not be participating enough in major technology-related issues and decisions, missing out on opportunities to optimise strategic and operational investments in technology due to lack of knowledge, education, or familiarity," he noted. This was the rationale behind SLID's initiative to conduct a survey-based diagnostic study on current IT governance practices in the private and public sectors of Sri Lanka. Salieh concluded his remarks by saying: "Our intention is not to stop with the launch of this report but to support boards in assessing their internal gaps in detail and facilitating the bridging of gaps effectively."
Collaboration and Focus
SLID collaborated on this study with Ernst & Young, Sri Lanka (EY) as its main technical partner; and was assisted by a team of high-profile IT governance experts from three foreign universities and EY Global Delivery Services. The survey was designed, conducted, and analysed under the expert guidance of Prof. Jennifer Jewer (Memorial University, Canada), Prof. Ken McKay (University of Waterloo, Canada) and Prof. Tejpavan Gandhok (Jindal Global Business School, India).

SLID received assistance from the Ministry of Finance, the Colombo Stock Exchange, the Ceylon Chamber of Commerce, and the National Chamber of Commerce of Sri Lanka to conduct the survey amongst company directors across several industries in the private and public sectors.

The study focused on the current state of board-level IT governance expertise and practices across public and private sector companies, with outcomes aligned to the current context of increasing technological challenges and disruptions companies face in their operating business environment. As businesses onboard IT solutions and increasingly focus on digitalisation to capture exponential growth and create value to remain relevant in an era where technology leads, the framework and process of IT governance must be strengthened and made future-ready, particularly at the board-level.
Key Findings and Outcomes
EY Partner Arjuna Herath, recapped the key findings and outcomes of the study. He shared an overview of board governance and its link to IT governance and the need for both for the success of corporates today. He emphasised a fundamental insight from the study: "As the board's IT expertise increases, it facilitates better board IT governance, and in turn better ROI". Finally, he summarised the key findings of the survey report and put into context the findings and recommendations derived from the survey to support a viable board IT governance journey for companies in Sri Lanka.

He made a compelling presentation emphasising the need for adequate and appropriate IT knowledge, experience, and expertise within boards of directors to support operations in a technologically driven internal and external environment in line with the survey findings. He advocated that for boards to carry out their duties responsibly and accurately in today's market context they must know about IT, its risks, its impact on strategy, and the related privacy and security issues. "While dependency on IT management is a good thing, over-dependence is not the right way for businesses to operate. IT knowledge must be available and accessible at the highest levels of leadership to ensure a unified corporate strategy that creates value for the business," he said.

Some insightful findings from the diagnostic study were that IT governance at the board level was significantly less effective than overall board governance; there were distinct stages in the IT governance maturity curve, and the 'best-in-class' knew what to do and were doing it; public sector boards were distinctly different in composition and IT governance practices were generally lagging compared to private sector boards.

The recommendations included identifying the right-fit IT strategy to be implemented depending on the industry the business operates within, having at least two to three board members with sufficient IT competency skills if there is no IT Advisory Committee; and regular reviews of board competencies and skills, and IT governance processes and mechanisms.
Panel Discussion
An interactive and interesting panel discussion followed the EY presentation putting into context the importance of having knowledgeable and experienced board members for proper IT governance, ensuring better business decisions and sustainable value creation across business functions and stakeholder groups. The discussion started with a short video clip from University of Waterloo, Canada Professor of Information Systems and Operations Prof. Ken McKay sharing his views based on the diagnostic study's findings.

The panel comprised the Information and Communication Technology Agency of Sri Lanka (ICTA) Chairman Prof. Malik Ranasinghe, Sri Lanka insurance Corporation Independent Director Dr. Kithsiri Manchanayake; PWC Sri Lanka Director Ruvini Fernando, and M. R. Anoop from SAP.

The discussion moderated by Arjuna Herath revolved around the key findings and observations derived from the study. The panellists shared their perspectives and experiences concerning the key findings in the Report; and how a more robust IT governance at the board-level would benefit businesses to ensure greater accuracy, transparency, and accountability in corporate IT spending. The panellists and participants also shared various views on the necessity for the board of directors to be IT-savvy with one or more members appointed with expert IT knowledge.

Prof. Malik Ranasinghe shared his thoughts on the key finding that companies in banking and financial services, technology and engineering, and FMCG sectors had better IT governance practices at the board-level in Sri Lanka. He shared his own experience at Sampath Bank while he served on its board. He referenced how the board approved large IT budgets with limited governance attributes and IT governance processes which were then executed by the management purely on the basis that the board had approved the expenditure. He suggested that there should be at least one board director with adequate IT knowledge for the approval and disbursement of such funds.

He also shared his thoughts on using best practices in IT governance to support boards to uplift their processes in this area.

Dr. Kithsiri Manchanayake explained how a board with experienced IT professionals would benefit a company's technology implementation and digitalisation strategies. He shared his experience of how the IT function transformation at Sri Lanka Insurance Corporation brought in higher value with the proper guidance from the board, enlightening the importance of IT governance at the board-level.

Ruvini Fernando shared her thoughts on how having a tech-savvy board can support better risk management, one of the primary responsibilities of board directors. Furthermore, she spoke about how boards can get greater insight into technology use and its suitability for an organisation's business model by appointing external experts from Sri Lanka's IT industry to augment IT advisory and board subcommittees.

When asked about companies finding IT decisions challenging, she explained how she sees technology adoption as a community effort and how Sri Lanka is a little slow in technology adoption in different areas compared to our neighbouring nations. She attributed this to the nature of local directors being hesitant to take risks and adapt to changes. She believes that as the ecosystem develops awareness and the need for businesses to adopt IT governance, whether they are private or public sector companies, will become more forthcoming. "A proactive approach is needed and something we as a country still need to develop to a much higher level," she said.

Anoop shared his views on the value of IT proposition becoming a critical success factor for organisations in today's technologically driven world and how companies bring in greater synergies to create higher values by including CIOs on company boards. "This will prove the board's commitment to IT governance at a higher level," he said.

He also said that IT strategy adoption will only take place if there was board-level involvement in IT decision-making, which he observed was beginning to happen in preference to only the CIOs making such decisions. Commenting on offensive and defensive IT strategies, he noted that it depends on the business and the phase of growth; and recommended that a balanced approach is the best way forward.

The panel discussion also included questions raised and comments made by the audience. There were diverse views regarding the right board composition and the number of IT experts who should be on a board. A clear view that emerged was not so much on a particular number of IT practitioners or experts recruited to a board, but a board composition with sufficient directors who could challenge IT proposals put forward by the management, ask relevant questions, and make appropriate decisions. Having at least one IT professional as a board director with other non-executive directors capable of contributing to IT governance aspects in the boardroom was a moot point of the discussion.

In her call to action, SLID Innovation and Technology Committee Lead Chair Chiranthi Cooray reiterated the importance of the board leading the management in IT decision-making. She stressed that having the right people to lead and guide IT governance is a mark of good stewardship and sponsorship. An interesting perspective brought to light was her assertion that board directors leading IT governance will need to wear the hat of cheerleaders, champions, evangelists, and redeemers through this journey as required. She stressed that corporate boards must lead the way, educate themselves and then support SMEs and other smaller businesses to overcome IT implementation and governance challenges.

She concluded with, "SLID is here to do just that. We will support behavioural shifts, openness to learning, and take on the challenge of turning around the state of IT governance in Sri Lankan boardrooms."

SLID has plans to execute several learning and promotional initiatives aimed at improving IT governance practices at the board-level. SAP India and Potenza Ltd., Sri Lanka were the exclusive event sponsors.