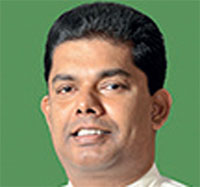 MP Gayantha Karunatilaka
---
SJB MP Gayantha Karunatilaka said in Parliament yesterday that illicit alcohol consumption in Sri Lanka has risen over 300% in recent times, adding considerable stress to Government health expenditure.
Speaking during the Budget debate on the Ministry of Health, he noted that according to World Health Organization estimates, average global alcohol consumption had risen 55% whilst the number in Sri Lanka stood at 95%. He said that this painted a grave picture of alcohol consumption and regulations in Sri Lanka, and that the Government needs to focus more attention on this aspect.

He asserted that consumption of illicit alcohol with varying levels of unregulated toxins posed serious threats to human health, and this had a caused a rise in hospital admissions and treatment in recent times, which is a burden to State expenditure.