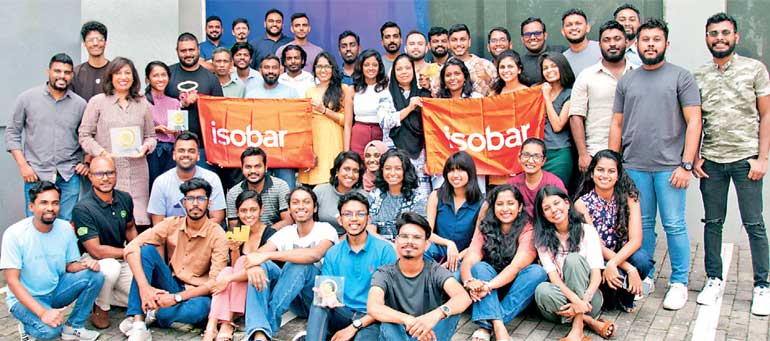 Team Isobar Sri Lanka
Taking centre-stage yet again, ISOBAR Sri Lanka, the digital arm of the premier advertising agency group, Dentsu Communications, was bestowed the highest recognition as the 'Most Effective Agency of the Year' at the Effie Awards Sri Lanka 2022, making Isobar the first Sri Lankan digital agency to win this title.

This towering accolade is presented only to the agency that obtains the highest added points from all awards won and the most finalist entries at the Effie's, and Isobar Sri Lanka marks this historical win within just four years of operations in the local advertising industry.

Commenting on the agency's outstanding performance, Dentsu Grant Group Sri Lanka Chairperson Neela Marikkar says: "As the digital arm of the group, we are at the forefront of future proofing our clients brands. Winning the most coveted award 'Most Effective Agency of the Year' at the recently-held Effies yet again underscores the innovative thinking of our young team.

"We are super proud of their work and also grateful to our clients for their confidence in ISOBAR's ability to partner their marketing efforts to deliver high impact communication solutions for their brands. What we have demonstrated is the wonderful outcomes for brands when we bring creativity and technology together led by data driven insights. Today our client roster comprises of the country's leading brands in FMCG, banking, e-commerce, travel, education, entertainment, and many more."

Explaining further, Dentsu Communications Vice President Mohenesh Chamith Buthgumwa says: "Winning the most effective agency award in record time and the first-ever Effie gold/s for a gaming campaign in Sri Lanka is a testament to our team's hard work, commitment, and boundary-pushing creativity.

"As a young agency who challenges industry limits of what's possible in advertising, we're excited about the opportunities ahead and committed to delivering effective creative solutions to our clients. We look forward to building on this success and continuing to set the standard for excellence in the industry."

ISOBAR won handsomely at the Effies for its execution of effective digital communications for some of the leading brand names. The collaboration between Isobar and Convenience Food (Lanka)'s brand Sera Kottu Kottu resulted in Convenience food (Lanka) winning "Marketer of the year" and their brand Sera was able to secure "Brand of the Year".

The award winning collaborations included 'Breaking virtual ground with #GrandTheftKottu' Social Media (Silver); '#GrandTheftKottu wipes the scoreboard as an innovative campaign' - Media Innovation (Gold); '#GrandTheftKottu, the new kid on the block' - Packaged Food (Gold); and 'Forget the matrix and the glitch.

Think #GrandTheftKottu' - Youth Marketing (Bronze). ISOBAR contributed to the Silver Award in the Marketing Disruptors category for Jat Holdings' 'Mr. White' campaign and for Softlogic life PLC – Insurance, Merit Awards for 'The art exhibition' and 'Awakening your inner child' campaigns.