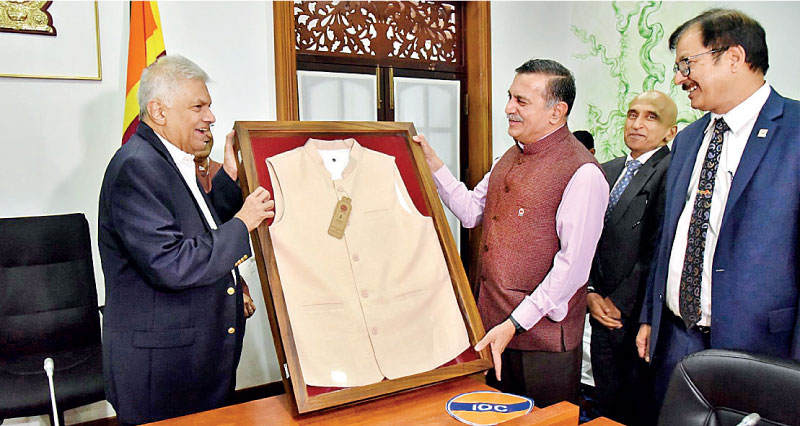 Indian Oil Corporation Ltd. (IOC) Chairman Shrikant Madhav Vaidya visited Sri Lanka along with Energy Delegation from India comprising Secretary, Ministry of Petroleum and Natural Gas, India Pankaj Jain, JS/OSD (International Cooperation), Esha Shrivastava, CMDs of many leading energy corporates in India and held numerous high-level meetings with Government of Sri Lanka on exploring the areas of common interests between India and Sri Lanka in the energy sector.
The energy delegation also met President Ranil Wickremesinghe where IOC Chief Vaidya presented him with a unique sustainably made jacket made by IOC under #IndianOil's #Unbottled Campaign highlighting IOC's resolve for Going Green.

During the special occasion, Indian High Commissioner to Sri Lanka Gopal Baglay was also present.

IOC said it was noteworthy that recently, Vaidya had also presented similar jackets to Indian Prime Minister Narendra Modi and renowned American businessman and Co-Founder of Microsoft, Bill Gates, both of whom were highly appreciative of the campaign and supported it by wearing the jackets.

Under the 'Unbottled' campaign, IOC aims to convert 100 million PET Bottles annually to make uniforms for our on-ground teams and non-combat uniforms for armed forces. The popularity and encouragement achieved from the 'Unbottled' campaign has been inspiring for IOC to walk the extra mile and make all possible efforts to usher in a brighter tomorrow by reigning in the menace of single-use plastic.

Indian Oil Corporation is the parent company of Lanka IOC which holds 75.12% shares of the company and has played a leading role in arranging regular fuel supplies to Sri Lanka through Indian Credit line as well as beyond during the most critical fuel situation faced by the country.