Top Govt. team meets Lagarde in Washington
Talks on program to resume in mid-Feb
Govt. assures IMF of its commitment to reform agenda
IMF says ready to support SL to reach high quality growth path
The International Monetary Fund (IMF) will send a team to Colombo in mid-February to resume discussions on the $ 1.5 billion Extended Fund Facility (EFF) program after it was derailed during the 52-day political turmoil last year.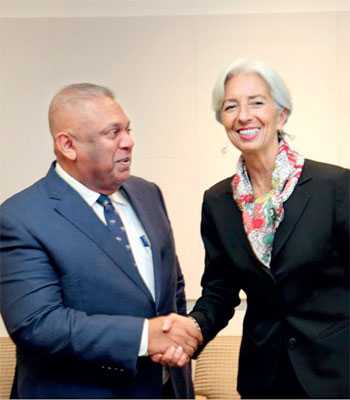 Finance Minister Mangala Samaraweera and IMF Managing Director Christine Lagarde exchange greetings in Washington
IMF Managing Director Christine Lagarde on Tuesday met with Finance Minister Mangala Samaraweera and Central Bank Governor Dr. Indrajit Coomaraswamy in Washington. Following the discussion the IMF released a statement.
"I was pleased to meet with Minister Samaraweera and Governor Coomaraswamy this afternoon. We discussed the challenging economic environment and the policy priorities for the country. The authorities stressed Sri Lanka's continued commitment to their economic reform agenda under the IMF-supported program," Lagarde said in the statement. The IMF and the Sri Lankan Government had reached a staff-level agreement just hours before President Maithripala Sirisena appointed Opposition Leader Mahinda Rajapaksa as Prime Minister on 26 October, triggering a constitutional crisis that also derailed the IMF program. Following the appointment of the new Cabinet, the Central Bank resumed talks with the IMF at the beginning of 2019.

"We agreed that a strong policy mix, with effective implementation of that agenda, is key to strengthening confidence, while putting Sri Lanka on a sustainable, high-quality growth path that would benefit its people."

"The IMF remains ready to support the Sri Lankan authorities in these endeavours and an IMF team is scheduled to visit Colombo in mid-February to resume program discussions."

The Sri Lankan delegation discussed the possibility of resuming the IMF program with a view to stabilising the economy following the disruptions of post 26 October 2018, and stressed on Sri Lanka's commitment to the economic reform agenda, the Finance Ministry said in a separate statement.

The IMF has disbursed over $ 1 billion out of a $ 1.5 billion three-year EFF loan it had agreed in 2016. Central Bank Governor Dr. Indrajit Coomaraswamy in the first week of January said the Sri Lankan Government has to option of extending the three-year program, which is scheduled to end in June by one year and also enhance the funding limit.

Sri Lankan delegation included Non-Cabinet Minister of Public Distribution and Economic Reforms Dr. Harsha de Silva, Treasury Secretary Dr. R.H.S. Samaratunga, Central Bank Governor Dr. Indrajit Coomaraswamy, Central Bank Senior Deputy Governor Dr. N.P. Weerasinghe, Economic Advisor to the Minister of Finance Deshal de Mel and IMF for Sri Lanka Executive Director M. Siriwardena.