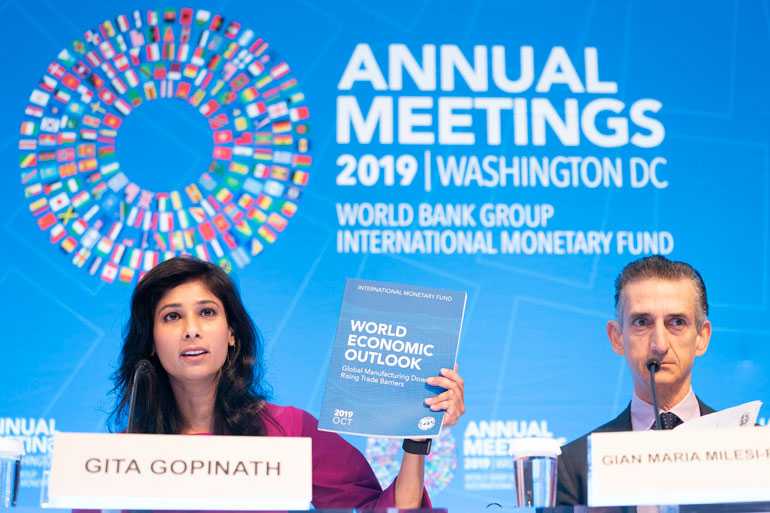 IMF Chief Economist Gita Gopinath shows off the World Economic Outlook October 2019 publication at its launch on Tuesday in Washington DC during the IMF World Bank Annual Meetings
---
Rising trade barriers and growing geopolitical tensions key contributors
Cautiously optimistic of rebound in global growth to 3.4% next year
Emerging markets and developing economies growth revised down to 3.9% but will help global recovery in 2020 with 4.6% rebound
IMF Chief Economist says no room for policy mistakes; calls on policymakers to support growth


By Nisthar Cassim in Washington D.C.

The International Monetary Fund yesterday downgraded global growth in 2019 to 3%, the lowest in a decade, although it sounded cautiously optimistic about a pickup in 2020.

The forecast global growth is 0.3 percentage point lower than the estimate IMF released in April and the 3.4% growth for 2020 is a 0.2 percentage point downgrade.

Releasing the World Economic Outlook (WEO) during the IMF World Bank Annual Meetings 2019 in Washington DC, IMF Chief Economist Gita Gopinath declared that global growth was in a "synchronised slowdown" due to rising trade barriers and growing geopolitical tensions."

In its WEO, the IMF said among advanced economies, the weakening has been broad-based, affecting major economies (the United States and especially the euro region) and smaller advanced Asian economies.

The slowdown in activity has been even more pronounced across emerging market and developing economies, including Brazil, China, India, Mexico and Russia, as well as a few economies suffering macroeconomic and financial stress.

Gopinath said US-China trade tensions would cumulatively reduce the level of global GDP by 0.8% by 2020. She described the 3.4% growth next year as a "modest recovery."

Unlike the synchronised slowdown in 2019, the recovery in 2020 is not broad-based and remains "precarious". It was pointed out that weakness in global growth was driven by sharp deterioration in manufacturing and global trade with higher tariffs and prolonged trade policy uncertainty damaging investments and demand for capital goods.

Trade volume growth in the first half of 2019 has fallen to 1%, its weakest level since 2012. The Services sector has remained buoyant although facing challenges, she added.

Gopinath said growth in emerging markets and developing economies had also been revised down to 3.9% for 2019 owing to trade and domestic policy uncertainties and a slowdown in China.

However, she said the uptick in global growth in 2020 was driven by emerging markets and developing economies whose growth will rebound to 4.6% next year.

The IMF Chief Economist also listed downsides to recovery forecast for 2020 and they included heightened trade and geopolitical tensions including Brexit-related risks.

"At 3% growth there is no room for policy mistakes and there is an urgent need for policymakers to support growth," stressed Gopinath.

"The global trading system must be improved and not abandoned and countries need to work together because multilateralism remains the only solution to tackle major issues," she added.

The IMF's WEO said to strengthen resilience, policymakers should address financial vulnerabilities that pose risks to growth in the medium term. Making growth more inclusive, which is essential for securing better economic prospects for all, should remain an overarching goal.