5-storey vertical campus by 2021 to house 10,000 students
Plans underway to build more facilities outside Colombo
Celebrates 30 years of excellence in providing British higher education
By Charumini de Silva

The 30-year-old Informatics Institute of Technology (IIT) will be investing Rs. 1.2 billion to build a new city campus in Colombo housing 10,000 students keen to pursue British higher education, a top executive said.

The planned expansion of the campus will be completed by 2021 with a five-storey, vertical campus built in line with global standards.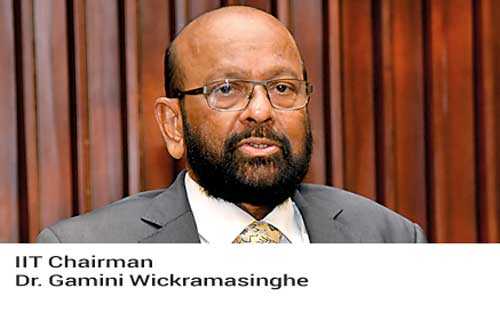 "We have been wanting to setup our own campus and we have worked on it for the past two years. We are in the process of obtaining various approvals to finish building this new facility by 2021," IIT Chairman Dr. Gamini Wickramasinghe told the Daily FT.

The new facility, which will house between 7,000 to 10,000 undergraduate and post graduate students, will be located conveniently in a land next to University of Colombo, with state-of-the-art facilities, labs and spacious lecture rooms adding more value to the learning experience at IIT.

IIT, which turns 30 this year, is a pioneer in conducting internationally-renowned British undergraduate and postgraduate programs in Business and Information Technology in Sri Lanka since 1990.

Dr. Wickramasinghe said IIT had witnessed a surge in students who wanted to obtain higher educational qualification from a globally-renowned university and it was expanding to accommodate the growing number of students.

"The institute is currently expanding operations in order to provide a quality assured learning experience. With the introduction of new programs, IIT has experienced an increase in the number of students who have enrolled to follow the undergraduate and postgraduate programs conducted by the institute," he added.

With their philosophy being to inculcate a sense of innovation and inspiration and to educate local students to develop their skills to be useful and productive citizens contributing to national businesses and industry, the key role in this ambitious development is to build a campus that cultivates research, entrepreneurship and innovation and is a great place to study.

It has seen in over 3,000 graduates practicing globally within the industry and beyond. The IIT campus is currently affiliated to the University of Westminster UK which is an acclaimed modern university that has won the prestigious Queen's Award for Enterprise for two years consecutively.

In the past, IIT has also delivered internal degree programs of Manchester Metropolitan University and Keele University. Over the year IIT has annexed its position as an award-winning campus which has contributed to the growth of Sri Lanka's IT industry.