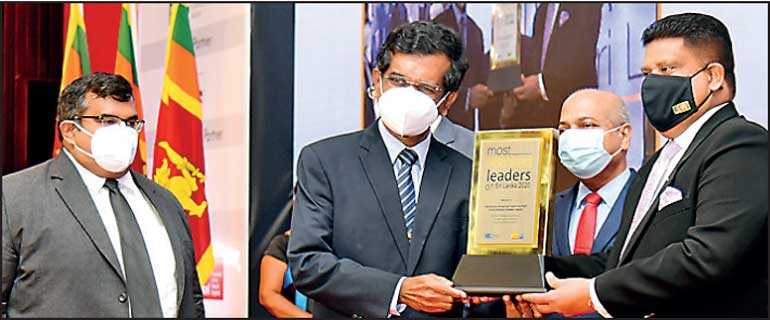 For National Contribution - Infectious Diseases Hospital (IDH)
---
Army Commander General Shavendra Silva given special award for leadership in the fight against the spread of COVID-19 pandemic
---
'The International Chamber of Commerce Sri Lanka (ICCSL) and the Daily FT on Wednesday bestowed the Infectious Disease Hospital (IDH) and pioneering women entrepreneur Aban Pestonjee with 2020 Most Admired Leaders of Sri Lanka Awards.

Presented in parallel to the Most Admired Companies competition organised by ICCSL, Daily FT and CIMA, the Leadership Awards are annually given to Sri Lankans who have contributed significantly to the progress of the country. The Army Commander, Chief of Defence Staff and Head of the COVID-19 Task Force General Shavendra Silva was presented with a special award for his leadership role in the management of COVID pandemic.
Silva incidentally was also the Chief Guest at the Most Admired Company 2020 awards ceremony.

These awards are made under three categories – National Leadership, Business Leadership, Social Responsibility and in a Special Awards category. The awards recognise leaders who have excelled in their respective fields but have also brought recognition not only for themselves but also to our nation. They have been challenged by many, however with grit, resolve and courage they have achieved their goals as would benefit the larger number of our community.

The Infectious Diseases Hospital was presented with the Most Admired Leader Award for National Contribution, Abans Plc Chairperson Aban Pestonjee was bestowed with Most Admired Leader Award for Entrepreneurship and General Shavendra Silva was bestowed with Most Admired Leader Award in Special Award Category.

The medical professionals, nurses and staff working at the Infectious Diseases Hospital have been on the frontlines for infectious diseases for decades. In this pandemic they have gone beyond their call of duty to treat and support those seriously affected by the pandemic.

Health workers have endured long days and nights away from their families to care for us during COVID-19. Our doctors and frontline medical workers have demonstrated passion, tenacity, selflessness and dedication right through the crisis. The nurses, doctors, frontline staff and many others continue to risk their lives on the front lines. The IDH team has been commended for their sacrifice and dedication and the award recognises this outstanding commitment by frontline responders at the IDH.

Abans was founded in 1968 by Aban Pestonjee, a young homemaker and mother of three. Experiencing the challenges faced in a closed economy when it came to washing, cleaning and taking care of her home, she boldly embarked on the goal of making the lives of homemakers like herself easier and more convenient through the usage of home appliances.

Armed with little more than grit and determination, she purchased, repaired and resold reconditioned appliances with a guarantee at her modest corner store in Colombo. She also set up a modest workshop in her home garage to repair and service the appliances sold by her. Despite the initial struggles experienced in a then male-dominated industry, her store became highly popular due to her strong emphasis on personalised customer relations, efficient after-sales services and high-quality appliances.

Aban Pestonjee, is also known as one of the first entrepreneurs who initiated in first bringing Korean technology in serving Sri Lanka's consumers. Today Abans stands tall and employs a dedicated and committed workforce of over 15,000.

General Shavendra Silva is a war hero and a highly decorated military professional. General Silva heads the COVID-19 Task Force for the Prevention of COVID-19 Outbreak. Sri Lanka's military under his leadership is playing many roles in the COVID-19 battle from contact-tracing to running quarantine centres.

Medical professionals have appreciated the military's support in stepping up the national response to the pandemic and strengthening Sri Lanka's capacity for preventive health care. The Lowy Institute, an Australian think tank, recently ranked Sri Lanka in the Top Ten for Pandemic Management. General Silva is the recipient of the special award category for his leadership role in the management of COVID-19 in Sri Lanka.

For Entrepreneurship – Abans Director Rusi Pestonjee receiving the award on behalf of Abans Founder Aban Pestonjee

Special Award Category – Sri Lanka Army Commander and Defense Staff Chief General Shavendra Silva
---