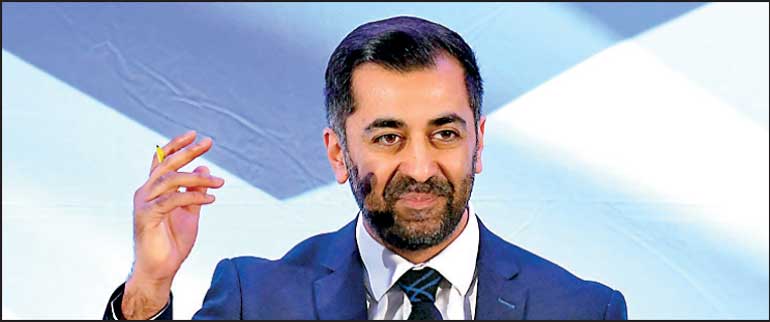 Humza Yousaf
---
EDINBURGH, AFP: Humza Yousaf on Monday won the race to become Scotland's new leader, its youngest and first from a minority ethnic background, charged with reviving a faltering independence movement after Nicola Sturgeon's long tenure.

Yousaf emerged victorious with 52% of Scottish National Party (SNP) members' preferentially ranked votes, following a divisive three-way leadership battle triggered by Sturgeon's surprise resignation announcement last month.

He is set to be sworn in as first minister on Wednesday, becoming the first ethnic minority leader of a devolved Government and the first Muslim to lead a major UK party.

The 37-year-old will also be Scotland's youngest leader, taking the helm months after Rishi Sunak became the youngest UK Prime Minister in modern times when he entered Downing Street aged 42.

Yousaf vowed to continue pursuing the SNP's central policy – independence for Scotland – which Sturgeon has championed since the party lost a 2014 referendum on the issue.

"We will be the generation that delivers independence for Scotland," Yousaf said in his victory speech, adding in subsequent interviews that he would formally request that the UK Government allow another vote.

He added his "immediate priority" was protecting Scots from Britain's cost-of-living crisis and reforming public services.

"I will aim to lead Scotland and the interests of all of our citizens, whatever your political allegiance," Yousaf insisted, noting he would look to work "constructively" with London.

Sunak's spokesman said the Prime Minister "looks forward to working with him" but ruled out granting the required permission to stage another independence vote.

Yousaf, who was Health Minister in Sturgeon's last Cabinet, narrowly beat Finance Minister Kate Forbes to become SNP leader once party voters' second preferences had been counted.

Former Minister Ash Regan finished a distant third.