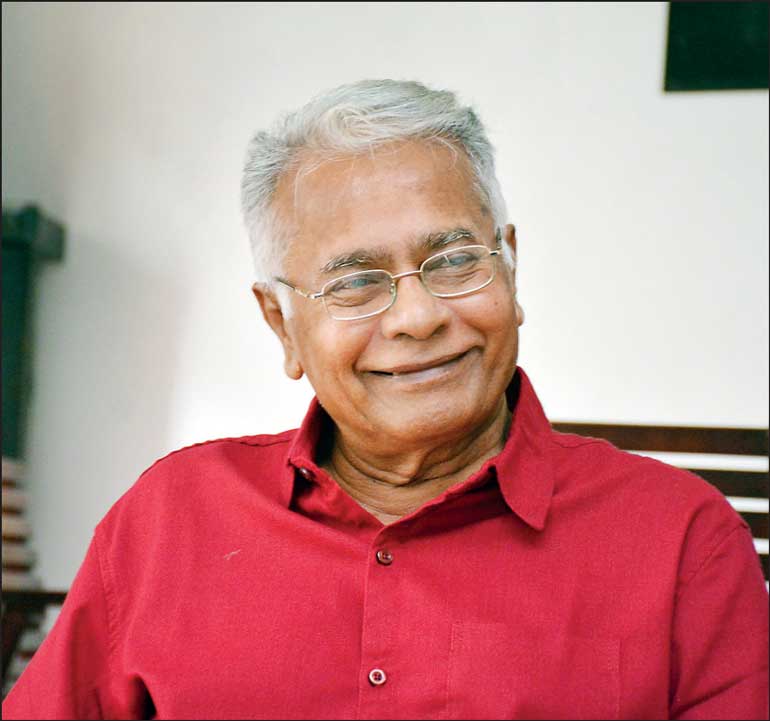 Dharmasiri Bandaranayake- a man of many roles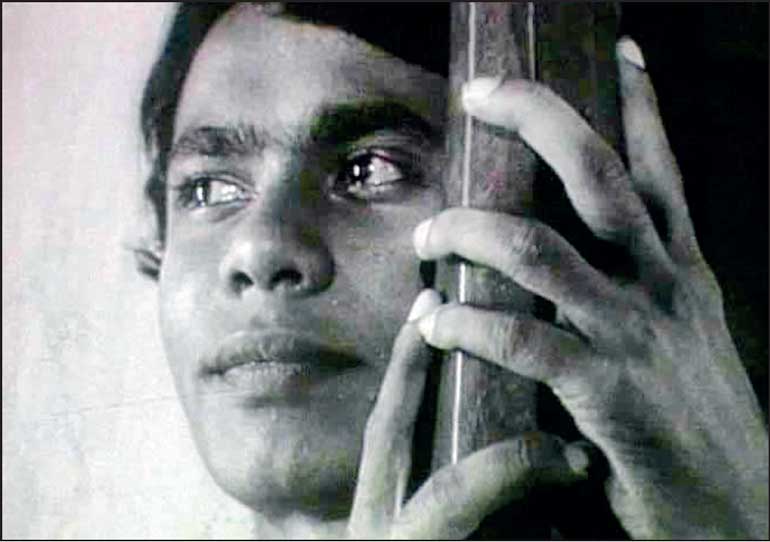 17-year-old Bandaranayake in his debut film Bakmaha deege
Bandaranayake with Swarna Mallawarachchi in Hansa Vilak

The most recent decoration on Bandaranayake by the University of Manchester is an index to all-time validity and relevance of his work. It is also an acknowledgement of the quality in his creations which has always superseded quantity. Bandaranayake's success on stage has also been his quest for universality transcending 'class' and 'language' barriers. This, he has achieved with finesse and in style. Be it Eka adhipathi, Makarakshaya, Yakshawagamanaya, Dhawala bheeshana or Trojan Women, a fullhouse in any theatre speaks for the fact
The veteran dramatist and film-maker Dharmasiri Bandaranayake was recently conferred the University of Manchester Medal of Honour in recognition of the versatility of his career spanning over five decades. The highest medal award of the nearly 200-year-old seat of learning which is awarded selectively and infrequently, University of Manchester Medal of Honour, recognises Bandaranayake as a 'courageous award-winning film and theatre director, actor and screenplay writer who has spent a lifetime on creations focusing on social justice and empowerment of deprived groups' in Sri Lanka. Acknowledging this exercise of the artist to be aligning with the mission of the University of Manchester, its President and Vice-Chancellor, Professor Dame Nancy Rothwell in her special message, applauds Bandaranayake as 'one of Sri Lanka's most highly acclaimed artists of modern times,' cheering him to continue to inspire Sri Lankans and the wider world. Daily FT sat with Bandaranayake who turned 73 on 6 October to recap his reel of a life.
---
By Randima Attygalle
---
The Jewish prisoners are being dragged to an underground Nazi gas chamber. A small child who is among the prisoners begins talking to an armed Nazi soldier. The soldier plays with the child. But in the end, the child also gets locked inside the chamber. The Polish short film Passenger directed by Andrzej Munk leaves an everlasting impression in the young Dharmasiri Bandaranayake in the late 1960s. "It is life that I expect from any form of art and it is essentially life which has always been the essence of all my creations," says Bandaranayake whose creative gene was ignited by Munk's creation. "I was awestruck by the film-maker's ability to interpret real life situations cinematically," says the 73-year-old veteran whose own work would at any time warrant a full-house and a standing ovation.

Bandaranayake was barely 17 when he was picked by Dayananda Gunawardene to play 'Premadasa' in Bakmaha Deege, an adaptation of the French drama, Marriage of Figaro. Smitten by lamatheni or the lady of the manor, played by none other than Iranganie Serasinghe, Premadasa's portrayal marked Bandaranayake's film debut as an actor in 1969. This was followed by his role as Punchi Rala in Lester James Peries' Veera Puran Appu, Sarath (the lead role) in Wasantha Obeysekere's Palagetiyo, Prof. Sunil Ariyaratne's Sathara Peranimithi in which he played a Buddhist monk. His other appearances were in Bamba ketu heti, Sewaneli eda minissu, Muhudu Lihini and Bora Diya Pokuna.


Self-taught artist

It was a 16 mm projector which the movie-buff purchased on an easy-payment scheme which became his guru of cinema. Borrowing reels of film from all possible embassies in Colombo which he played on his projector, Bandaranayake studied cinematography, editing, directing and screen writing on his own. "There were 64 films at the Czech Consulate at that time and I watched them all many times over," he recollects with a smile.

Bandaranayake's growing romance with cinema was matched by his passion for theatre. In 1975, Henry Jayasena picked him to play Lancelot in his production Makara which Bandaranayake later reproduced as Makarakshaya. His theatre production score includes Eka Adhipathi, Dhawala Bheeshana, Yakshawagamanaya and Trojan Women – all which have been acclaimed both locally and internationally.

His maiden cinematic labour Hansa Vilak in which he also played Nissanka – a man entangled in the web of love, lust and loss, is critically acclaimed as a 'permanent landmark in the history of Sinhala cinema'


Hansa vilak – a permanent cinematic landmark

His maiden cinematic labour Hansa Vilak in which he also played Nissanka – a man entangled in the web of love, lust and loss, is critically acclaimed as a 'permanent landmark in the history of Sinhala cinema'. While Dr. Lester James Peries called, Hansa Vilak a "dazzling debut" which "displays a remarkable feel for the medium" and "imaginative, experimental and very exciting," scholar and critic Reggie Siriwardene lauded him for "a form and style which went further than any Sinhala film before in taking us into the world of inner psychological experience."

To have found "the means of reflecting through the form and techniques of the film, the pressures of society and the family in the mind of a bewildered and tormented individual is Dharmasiri Bandaranayake's great achievement in the film. That achievement is sufficient to make Hansa Vilak a permanent landmark in Sinhala cinema, just as Rekawa or Ahas Gauwa were in their own time," Reggie Siriwardene wrote to Lanka Guardian in 1979. Bandaranayake's Suddilage Kathawa, Thunweni yamaya, Bawa Duka and Bawa Karma too earned appreciation from a discerning audience.


People-centric creations

"The pulse of an audience is crucial to a success of any production; be it theatre, cinema or any form of art, it needs to be people-centric. It is fundamental," reflects the dramatist and the film-maker whose every creation on stage and cinema has been conceived in a distinct socio-political and economic landscape of the island. Even his ground-breaking Hansa Vilak, although woven around the institution of marriage, indirectly reflects the post-open economy phase in the country remarks Bandaranayake.

The most recent decoration on Bandaranayake by the University of Manchester is an index to all-time validity and relevance of his work. It is also an acknowledgement of the quality in his creations which has always superseded quantity. Bandaranayake's success on stage has also been his quest for universality transcending 'class' and 'language' barriers. This, he has achieved with finesse and in style. Be it Eka adhipathi, Makarakshaya, Yakshawagamanaya, Dhawala bheeshana or Trojan Women, a full-house in any theatre speaks for the fact. "My focus is on expression," notes the dramatist in whose hands, Hecabe and Cassandra rise above Greek borders to become our own war-time women.

Bandaranayake was credited for his 'reconciliation- centric' documentaries long before reconciliation became a buzz word. For him, documentary-making is an 'intermission' in his cinematic career


A cultural ambassador

Bandaranayake was credited for his 'reconciliation-centric' documentaries long before reconciliation became a buzz word. For him, documentary-making is an 'intermission' in his cinematic career. The University of Manchester Medal of Honour is also a recognition of his efforts which were 'aimed at drawing attention to and promoting the important contributions made by minority communities in the cultural arena in Sri Lanka' as endorsed by the almost two-hundred year-old institution. Bandaranayake's artistic talents in highlighting some of the major social issues in Sri Lanka such as the exploitation of rural women and the marginalisation of the poor were also taken stock of in conferring him this coveted medal. His collaborative projects with academics of the University of Manchester – Professors James Thompson and Mahesh Nirmalan, in which arts including theatre is utilised 'as means of addressing the needs of all communities that suffered as a result of the prolonged conflict in the country' have also been recognised by the awarding body.

After a long hiatus since his last political documentary – Paradise in tears, Bandaranayake enthusiasts still await its promised 'next phase'. "The timing for it couldn't be better than now," offers renewed hope for yet another rejuvenating creative experience by Bandaranayake – a cultural ambassador of a rare breed.
Pix by Upul Abayasekara, Ranga Bandaranayake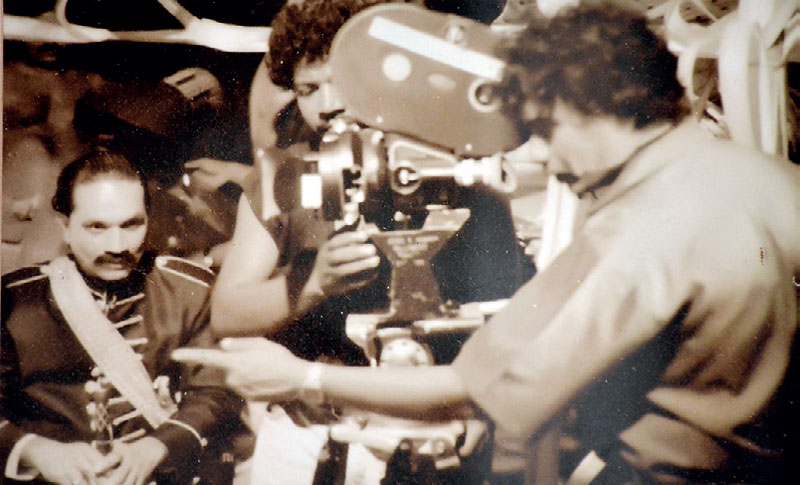 Directing Bawa Karma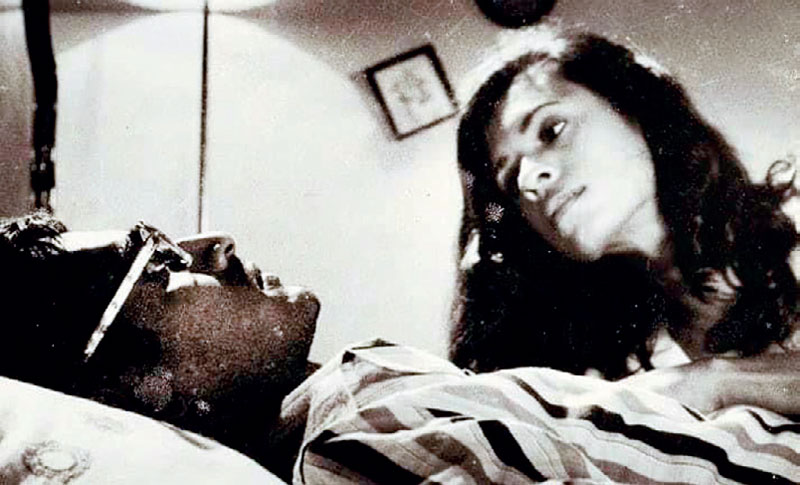 Wasantha Kotuwella and Indira Jonklas in Thunweni Yamaya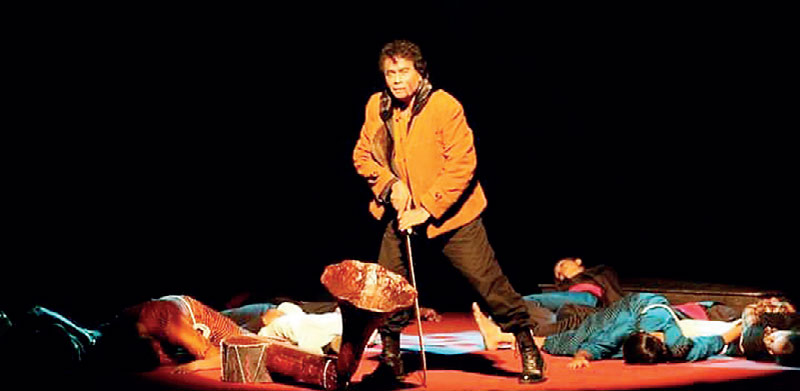 Bandaranayake as Lancelot in his production of Makarakshaya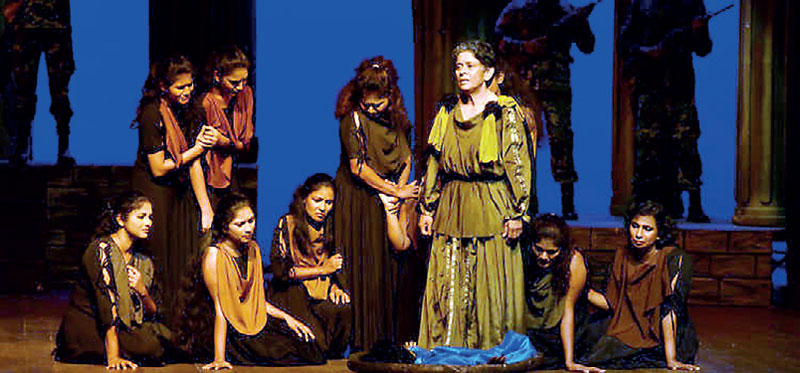 Trojan Women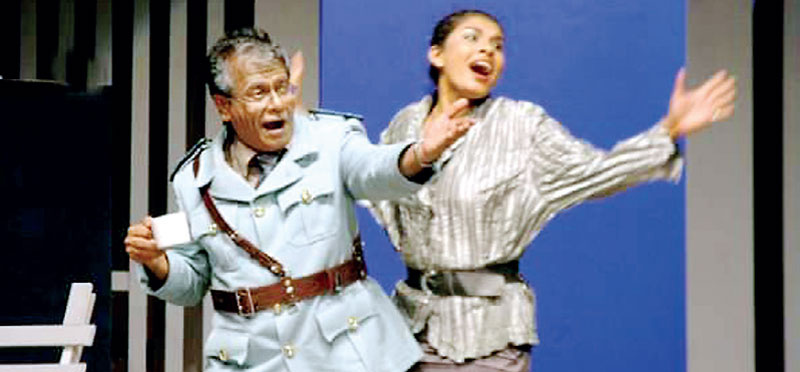 Playing President Malcolm in Eka Adhipathi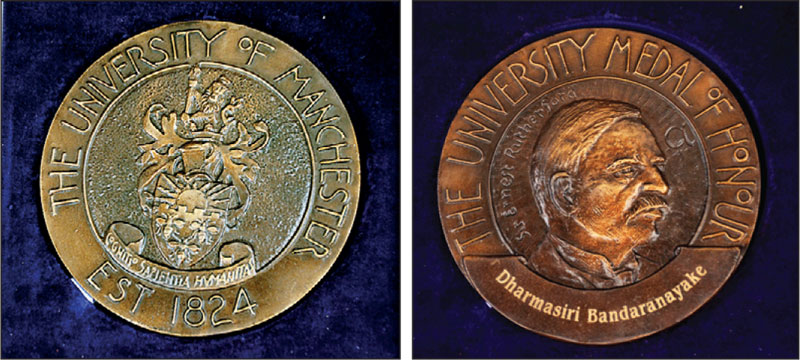 University of Manchester Medal of Honour
---