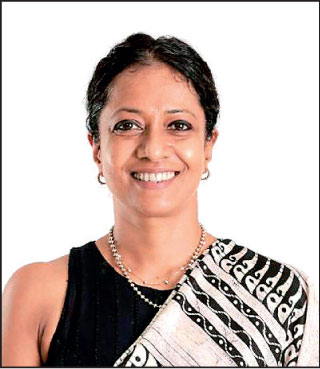 Group Chief Executive Officer Kasturi C. Wilson
---
Hemas Holdings PLC (HHL) has continued to be resilient amidst challenging macroeconomic conditions to post a Group revenue of Rs. 24.8 billion in 1Q of FY23, an increase of 51.4% over the same period last year.

Group Chief Executive Officer Kasturi C. Wilson said despite the macroeconomic challenges, Hemas continued strategic focus on defensive core sectors resulted in a growth in revenue of 17.7% for the Group against last quarter.

She said Consumer and Healthcare Sectors contributed to improved earnings of Rs. 1.1 billion, a growth of 69.5% against last year and 1.6% against last quarter.

"Groupwide synergies and customer centric new product launches and line extensions coupled with effective savings through collaboration with all stakeholders, improved lean initiatives and digital transformation projects drove the performance for the quarter," Wilson added.

Hemas operating profit for the quarter stood at Rs. 2 billion compared to Rs. 1.1 billion recorded last year and Rs. 1.5 billion reported last quarter.

The Consumer Brands Sector recorded a revenue of Rs. 8.7 billion, an increase of 62.7% over last year driven by improved performance of all business units. Expansions made in the overseas footprint in both Home and Personal Care and Learning Segment resulted in a 74.2% growth in year-on-year export and international revenue.

Consequently, the sector reported an operating profit of Rs. 704.3 million and earnings of Rs. 499 million, a growth of over 100% over last year stemming from the revenue growth and efficiency improvements.

However, the Sector witnessed a 15.2% degrowth in operating profit against last quarter with the slowdown in seasonal revenue of the learning segment and overall input cost pressure on margins.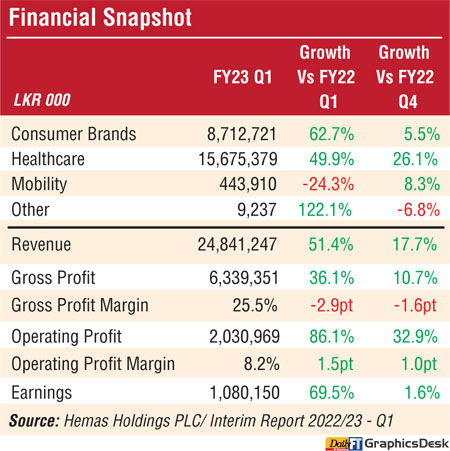 In the Home and Personal Care segment, both the modern and general trade channels witnessed a double-digit growth across personal care, personal wash, and laundry verticals.

All launches and re-launches of key brands gained traction despite the adverse market conditions resulting in over 10% contribution to the revenue. The Learning business segment's key brand 'Atlas' gained market share across all sectors with double digit volume led growth across both general and modern trade channels.

During the quarter the Bangladesh business under Consumer Brands International segment maintained its market position with a stable volume growth. Contribution from new products increased to 18.9% during the quarter as against 7.1% recorded last year with gained traction on the personal wash brand 'Acticef' and improved performance of 'Eva by Kumarika', an entry point value added hair oil launched last year.

Hemas Healthcare sector recorded a revenue of Rs. 15.7 billion, a growth of 49.9% over last year. Both Hospitals and Pharmaceuticals Businesses collectively contributed to the strong performance of the sector. Operating profit and earnings of Rs. 1.2 billion and Rs. 713.1 million for the year was an increase of 38.1% and 14.8% respectively. On a quarter-on-quarter basis the Sector reported an operating profit growth of 30.2% and an earnings growth of 11.8%.

Increased footfall and occupancy witnessed during last quarter continued with hospitals recording an underlying revenue of Rs. 1.5 billion, a growth of 37.8% over same period last year. Increase in surgical patients coupled with continued focus on digital and lean initiatives positively impacted the margins.

The Pharmaceutical business of the Group delivered a steady performance during the quarter leading to a double-digit year-on-year revenue growth of 57.5%. Price increases introduced in March 2022 were followed by further adjustments in April 2022 due to the industry facing immense pressure amidst steep rupee depreciation.

The Mobility Sector reported an underlying revenue of Rs. 443.9 million, a growth of 53.1% over last year mainly due to increased yields. Similarly, operating profits and earnings witnessed a growth of 65.9% and 70.3 respectively. Despite the 8.3% growth in revenue, earnings reported a degrowth of 27.7% against last quarter due to increased volatility in the business environment.

Commenting on the outlook Wilson said Hemas unlocked group synergies and remained agile and resilient to deliver exceptional results amidst a challenging environment.

"The operating environment will continue to be challenging in the next few months and from a national perspective, arriving at a staff level agreement with the International Monetary Fund (IMF) will be a key priority," she said.

With a clear strategic focus in place and resilient core sectors, Group CEO said Hemas is equipped to battle the upcoming challenges. Prudent and pre-emptive liquidity management measures are in place to further strengthen the cash position of the Group.

"Although a contraction is being witnessed across all consumer segments, in the short to medium term our focus will be to drive market share improvements by continuing to cater to the ever-evolving needs of consumers," she said.

The Group will also continue to invest in research and development capabilities in both Consumer and Healthcare spaces to fulfil the changing needs of the nation. "Internationalisation and expanding our regional footprint will also be a key focus area for both Home and Personal care and Learning segments while digitisation, efficiency improvement and prudent cost management will be integral pillars of strengths across the Group in the coming months," Wilson added.