Continuing heavy losses have forced Lanka IOC Plc to increase the prices of diesel and petrol from Saturday between Rs. 5 and Rs. 9 per litre respectively whilst market leader Ceylon Petroleum Corporation (CPC) has so far maintained that it will not revise prices.


LIOC said it had suffered heavy losses on the sale of petrol since January 2015 and diesel since September 2016. During the past four consecutive quarters the cumulative loss has touched Rs. 1.3 billion.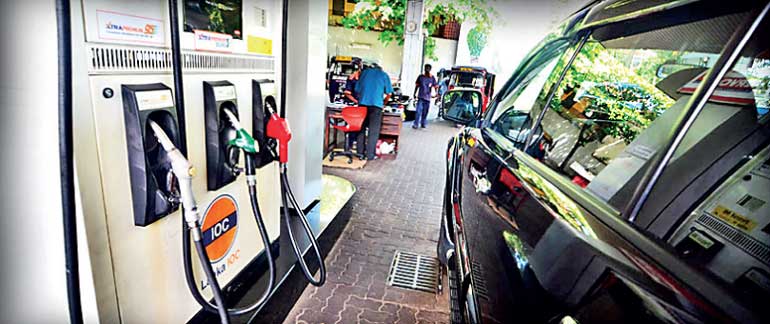 "Despite the prices of petroleum products going up significantly, the selling price has not been revised which has resulted in heavy losses," LIOC said, adding, "An increase in taxes and the depreciation of the Sri Lankan rupee has also significantly affected the margins."


As of 24 March, Crude Oil has touched $ 69/bbl and LIOC is incurring a loss of Rs. 12 per litre on petrol and Rs. 17 per litre on diesel. Due to a further increase in prices internationally, LIOC is incurring much more losses during the current quarter of January-March 2018.


"Being a public listed company, with significant minority shareholders, LIOC could not bear any further losses," it added.


As diesel is predominantly used more for public transport purposes, LIOC has decided to increase it in a lesser quantum.
LIOC Managing Director Shyam Bohra said that although the losses were very high, the company has increased prices by the barest minimum and it will still incur heavy losses despite this increase. He added the losses had become unbearable and many stakeholders had threatened to stop their transactions with LIOC if such losses continued.


"Till the time crude oil prices come down to around $ 55/bbl, oil companies will continue to make losses on the fuel imported by them and sold at their petrol sheds unless and until either the selling prices are increased or taxes are reduced," LIOC said.


It said the selling price of petrol and diesel still continued to be very low compared to the prices prevailing in neighboring countries as well as the prices prevailing in major oil importing countries of the world. LIOC has constantly requested the relevant authorities to look into the matter and provide relief to oil companies so that their operations remain sustainable.


"The implementation of a pricing formula will immensely benefit the economy of the country as the selling prices of petrol and diesel will move in tandem with international prices and consumers will also gain the benefit of lower fuel prices whenever prices in the international market come down," LIOC emphasised.