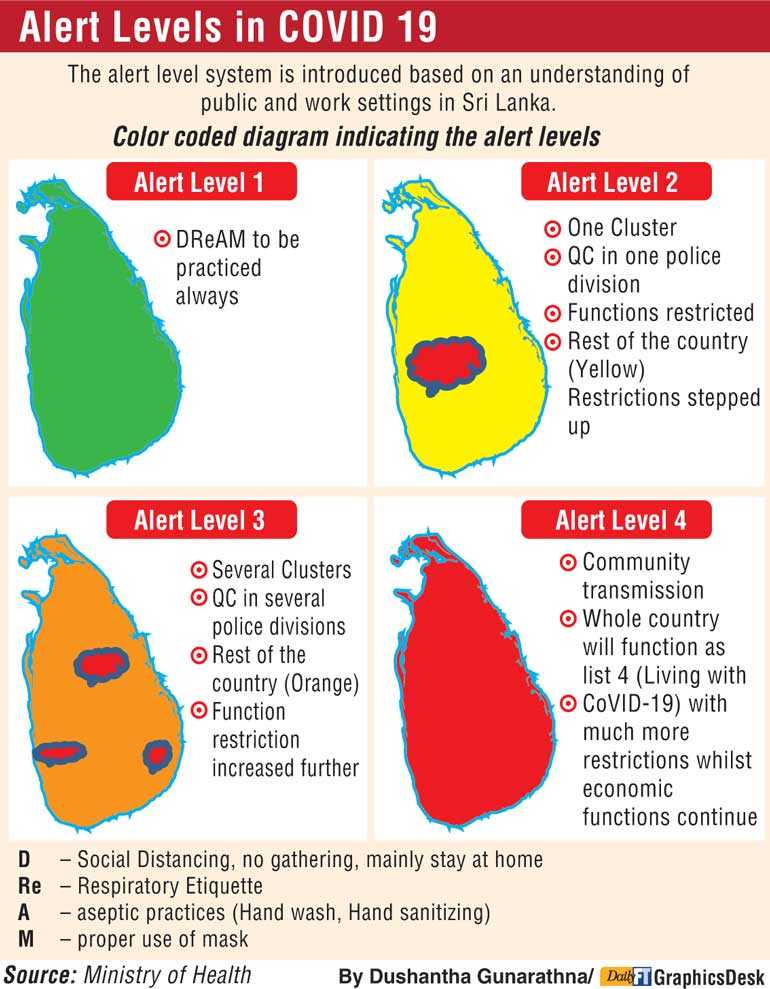 ---
The Health Ministry has issued instructions on an alert level system formulated on the country's COVID-19 response and activities permitted at specific stages, saying the Ministry would announce the current alert level based on the epidemiological situation of COVID-19 in the country.

The document, signed by Director General of Health Services Dr. Asela Gunawardena, outlines four alert levels and the restrictions imposed at each level.

Level One is when the cases identified in the island are from overseas arrivals at quarantine centres and there are no clusters. At this level, the DREAM concept of distancing, respiratory etiquette, aseptic practices, and proper use of a mask must be practiced at all times.

Level Two is when there is one cluster in the island and quarantine curfew in one police division where functions are restricted, while restrictions are stepped up in the rest of the country.

The Health Ministry describes Level Three as there being several clusters in different districts and quarantine curfew in several police divisions. Restrictions are further increased in the rest of the country at this level.

The final level is Level Four, when community transmission occurs and cases have no connection to clusters. At this stage, the entire country will function with added restrictions while economic functions continue.

The Health Ministry also provided information on the types of restrictions enforced during various stages with regard to specific activities.

Public transport, for instance, can function as usual with adherence to DREAM at Alert Level One, limit passengers to seating capacity at Level Two, permit 75% of the seating capacity at Level Three, and permit only 50% of the seating capacity at Level Four.

According to the document, public and private sector offices can function with adherence to DREAM at Levels One and Two, but Level Three requires that they operate with the minimum number of staff needed, with others to work from home where feasible. At Level Four, only essential staff members will be permitted, with others working from home where feasible.

The document outlines restrictions applicable to 54 activities.