LOLC and JKH follow in second and third places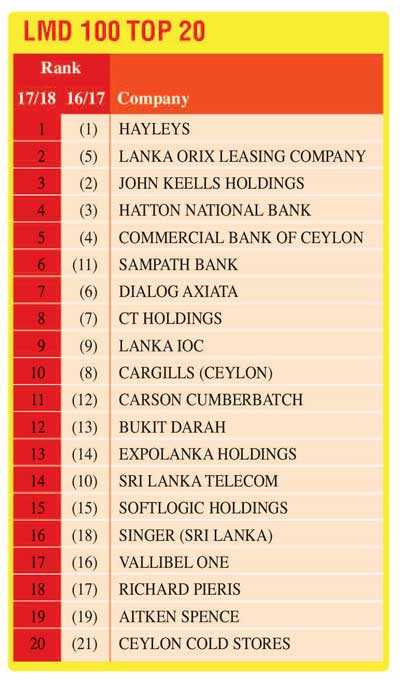 In an exclusive pre-publication release to Daily FT, the publisher of leading business magazine LMD, Media Services, announced its top 20 line-up in the forthcoming LMD 100 special edition.

Hayleys retains the No. 1 slot in the 25th edition of Sri Lanka's pioneering listed company rankings for financial year 2017/18. With its consolidated revenue exceeding Rs. 163 billion, the conglomerate secured top spot for the second consecutive year on the back of a 47% hike compared to 2016/17.

This marks the fourth occasion that Hayleys has occupied the prime position in Sri Lanka's version of the Fortune 500.

After breaking into the top 10 last year, LOLC climbs another four places to take second place on the podium with a top line of almost Rs. 150 billion. Last year's runner up John Keells Holdings (JKH) takes third place with an increase in revenue of 14%, having occupied the No. 1 spot on 13 previous occasions over the years.
The other listed companies in the top five consist of Hatton National Bank and Commercial Bank, claiming fourth and fifth places respectively.

Sampath Bank enters the top 10 by moving up five notches to claim the No. 6 position, followed by Dialog Axiata, CT Holdings, Lanka IOC and Cargills to round off the LMD 100's top 10.

A spokesperson for Media Services says that the 100-strong rankings "once again affirm that Sri Lanka's largest conglomerates, banks, finance companies and insurance firms continue to lead the way for listed entities in this country."

In addition to the listed company rankings, the annual LMD 100 special edition will cover the economy and performance of the top 10 in the period since the end of the 2017/18 financial year. It will also feature a series of interviews with some of the LMD 100's high achievers.

Media Services says the LMD 100 special edition will be released in December.