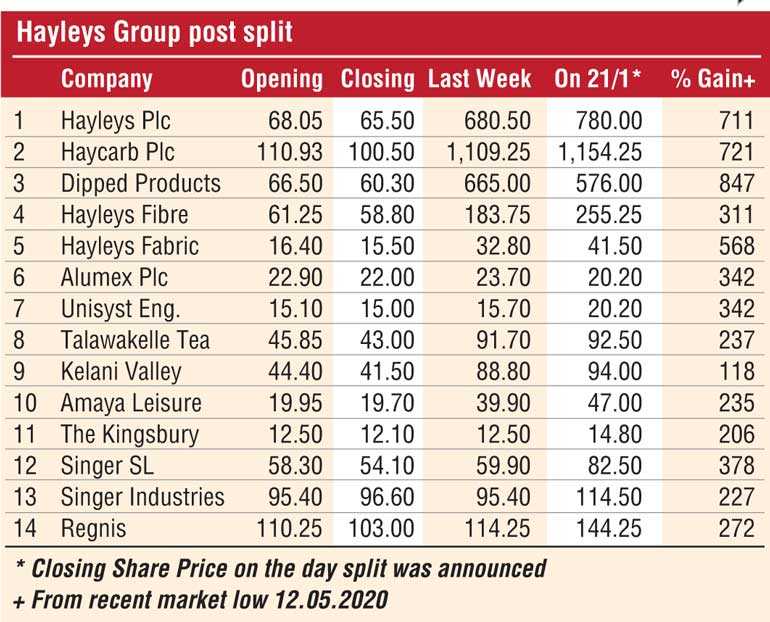 Hayleys PLC and 13 of its listed subsidiaries underperformed on the opening day of trading post-share split as analysts argued between excessive subdivision and lack of promotion by the CSE of new opportunities.

All the companies except Singer Industries, one which announced impressive share subdivision, traded below their opening prices (See table). Singer Industries gained by Rs. 1.20 from its opening price of Rs. 95.40 to close at Rs. 96.60. The share split was championed by business leader and Hayleys Co-Chairman Dhammika Perera to make the relevant companies, previously trading at high prices, affordable as well as increase their availability. Given the benefits investors reacted positively when the splits were announced with massive gains in the share price (see table) and many investors cashing in earlier.

However, yesterday's performance on debut disappointed many investors and analysts who had high expectations. Some opined that the splits created an excess supply whilst demand was very low. However only three out of 14 companies had 1:10 splits (Hayleys, Haycarb and Dipped Products) whilst others had more straightforward 1:2 or 3.

Other analysts argued that given the fact that improved liquidity and affordability are market-positive, the Colombo Stock Exchange, brokers and even Hayleys Group should have promoted in advance the new buying opportunities post-split especially among new investors who hitherto kept away from the market due to high price.

"If this was done, today we would have seen demand for these shares of companies which are fundamentally sound, dividend paying and well performing, from new investors. This was absent hence the impact," they added.

With more companies having announced share splits in recent weeks, these analysts said proper awareness must be ensured to achieve the fuller benefit. If not, investors might shun splits on the presumption that they destroy value rather than enhancing whilst some stocks remaining illiquid and beyond reach for new or small investors.