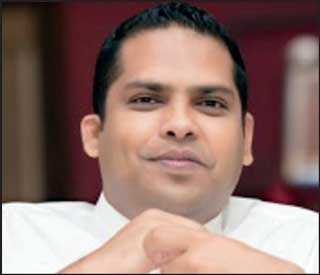 Harin Fernando
---
Samagi Jana Balawegaya MP Harin Fernando yesterday expressed serious concerns on the Government's proposed joint venture with India's Adani Group to operate the East Container Terminal
(ECT) at the Colombo Port, insisting that the terms and conditions were still unclear.

Describing the joint venture as "the beginning of the end," Fernando warned that the move would definitely hamper the growth of the Colombo Port.

However, he was quick to clarify that this was not an issue in relations between India and Sri Lanka rather that it was a disastrous decision by the Government to select the Adani Group who he said were not experts in running ports.

"The Adani Group already enjoys a joint venture with the world's leading shipping line Mediterranean Shipping Co. (MSC), to operate the Adani International Container Terminal at Mundra Port. The Government has failed to select a best port operating company to run the terminal," he said.
Harin...

Although the joint venture between the Government and Adani Group is going to be split 51% to 49%, Fernando claimed that the Indian company will still have the upper hand on the operational work of the ECT with key positions such as the Chief Executive Officer (CEO) still unclear.

"The Colombo Port is a world-renowned transhipment hub. Around 55% of the containers at the State-run Jaya Container Terminal (JCT) are from MSC, and if the Government decides to handover operations of the ECT to Adani Group, it will affect the operations of the Colombo Port immensely. The Adani Group will have the power to decide how many ships will be called at Colombo Port and how many at Mundra Port, as they enjoy the advantage of having a joint venture with MSC," he stressed.

Fernando also said 70% of the ships channelled at the Colombo Port are from MSC.

He questioned why the Government has selected Adani Group – a major competitor – to operate one of the key terminals of the country's main port.

Fernando also claimed that the terms and conditions of this mega deal are still unclear. "The Government is oppressing the trade unions while misleading the general public. But why would the Government handover the controlling stakes to Adani Group knowing that they are one of the major competitors in the region?"