First half profit tops $ 3 m
Estimates over $ 8 m profit in FY22 up from $ 4.6 m in previous year
Revenue is forecast to be around $ 270 m in FY22 up from $ 171 m in FY21
---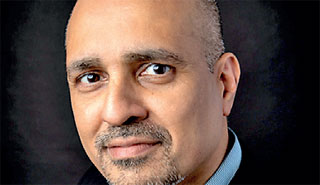 Hela Clothing Group CFO Moiz Rehmanjee
---
Hela Clothing is eyeing a record year in FY22 on the strength of growing revenues month-on-month during the recent few months.

"We had our best month in June with $ 21.2 million revenue and the performance of subsequent months bettered previous achievements. In October we did our best to date with $ 26.3 million revenue," Hela Clothing Group CFO Moiz Rehmanjee told the Daily FT.

Hela Clothing, which is primed for a listing on the Colombo Stock Exchange (CSE) shortly with an IPO to raise approximately $ 20 million (over Rs. 4 billion), estimates a profit exceeding $ 8 million in the current FY22, up from $ 4.6 million in the previous year. First half achievement was $ 3.1 million. Revenue is forecast to be around $ 270 million in FY22 up from $ 171 million in FY21.

Hela specialises in the manufacture of underwear, sleepwear and children's apparel. Among major clients of Hela are PVH Corp. – the parent company of fashion brands Tommy Hilfiger and Calvin Klein.

"We are having a robust sales pipeline which augurs well for growth prospects though like all apparel firms Hela too is facing challenges in terms of supply chain issues and high freight cost," Moiz added.

According to him, consumer demand in Europe and the US has picked up in tandem with normalcy, returning to pre-COVID levels.

Hela has of late been boosting capacity to meet customer demands. Apart from operations in Sri Lanka spanning seven factories, Hela was one of the first local apparel firm to set up manufacturing units in Africa starting from Kenya in 2016, followed by Ethiopia in 2017, and most recently in Egypt. It is also supported through its design centres in Sri Lanka, US, UK, and France.

"This early mover advantage is a key strength of Hela both in terms of duty free and quicker access to customer markets, raw material sourcing and ample sourcing of labour," emphasises Moiz. The latter is important as Hela employs over 8,000 people in Sri Lanka and an equivalent number overseas.

Already Hela represents approximately 20% of Kenya's apparel exports and aims to be the largest intimates exporter of Egypt by 2024.

By next year, revenue from the African operations is expected to overtake that of Sri Lanka. He said efficiency and profitability is catching up the in African operations.

Hela's revenue forecast for FY23 is approaching $ 300 million.

Hela's impressive growth has also come via diligent onboarding of new customers. This according to Moiz has ensured zero bad debt, a critical factor in times of stress.

Commenting on the upcoming IPO, the Group CFO said the funds raised will be channelled to improving the Balance Sheet by retiring $ 10 million worth of borrowings. The funds from the IPO will help restructure the Group's debt portfolio and strengthen its balance sheet.

Additionally, from IPO funds, $ 5 million will be invested in securing its fabric supply chain and the balance for upgrading productivity and rolling out a more agile Enterprise Resource Planning (ERP) system across the Group operations in multiple countries.

"We are keen to further improve operational and manufacturing efficiency as automation and productivity improvement is critical in tandem with a pickup in orders," Moiz explained.

For the investing public, the Hela IPO is likely to be interesting and appealing. Its strong dollar earnings will be a key attraction apart from the growing profile as an emerging multinational with an early mover advantage in Africa enjoying duty free and quicker access to its markets.

Moiz believes given the future growth upside and the Group's character, Hela's IPO will be ideal for medium to long term investors including family offices and institutions.