To reduce reliance on loans but focus more on investment promotion
PM claims some projects could have been handled by local contractors for less while others offer no real economic or social benefits
Reveals unpaid bills from 2019 account for Rs. 242 b or more than 2.3% of GDP
Expects State revenue for first eight months of year to be approx. Rs. 910 b
---
By Chandani Kirinde
---
The Government has decided to review all projects amounting to around Rs. 9 billion, Prime Minister Mahinda Rajapaksa told Parliament yesterday.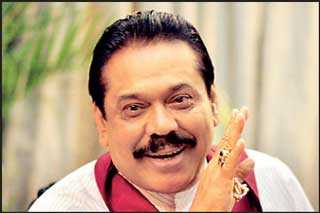 PM Mahinda Rajapaksa
---


However, the Premier said this did not mean that the Government will stop the projects altogether.

"Instead of loans, we will aim for more investment promotion. We believe we can reduce Government expenditure burden and ensure economic growth," he said. The Prime Minister observed that more than half the loans obtained in recent times were made-up of foreign loans.

"There are some projects which could have been handled by local contractors for far less. Other projects do not offer any real social or economic benefits," said Rajapaksa, who is also the Finance Minister, while opening the two-day debate on the Resolution presented to the House seeking around Rs. 1.7 trillion for State expenditure for the next four months of the year.

He also said the Government has to settle unpaid bills from 2019 amounting to Rs. 242 billion, which is more than 2.3% of the GDP.

"While the 2019 Budget deficit is reported as 6.8%, the real figure is more than 9% when you take the unpaid bills into account," Rajapaksa said.

He said the Government expects State revenue for the first eight months of the year to be about Rs. 910 billion.

"A total of Rs. 521 billion to pay the salaries of public servants, while Rs. 675 billion is needed to pay off the interest on loans. A further Rs. 390 billion is needed for State subsidies and other transfer payments," he added.

The Prime Minister also said that the Government has been successful in managing its expenses and that it will take action to reduce the Budget deficit by maintaining a high economic growth rate.

He said that when his Government handed over the reins in 2014, the growth rate of the economy was at between 5-6%. However, that stability of the economy has deteriorated gradually and at the end of 2019 it had become the lowest growth rate in South Asia at 2%.

Noting that all 225 MPs in the Parliament have a responsibility to revive the national economy, Prime Minister called on all MPs to join hands with the President and the Government to develop the country.

The debate on Vote on Account will continue today.