Slams critics as purveyors of "doom and gloom"
Attributes differences of opinion to political and ideological rifts
Backs Govt. policies on import restrictions, focus on local biz
Acknowledges reserves at $ 4.8 b but confident of meeting debt repayments
Declines to give update on swaps but sticks to no IMF given policy differences
---
By Uditha Jayasinghe
---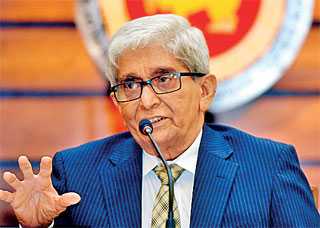 Central Bank Governor Prof. W.D Lakshman – Pic by Ruwan Walpola
Central Bank Governor Prof. W.D Lakshman yesterday slammed critics, referring to them as purveyors of "doom and gloom"; insisting that the Government has the economy well in hand and will ensure all debt repayments are met by focusing on "alternative" measures.

The Governor, appearing at his first in-person media briefing in months, dismissed concerns raised by detractors, who he said were criticising Government policy due to "political and ideological differences". According to Central Bank projections, Sri Lanka's growth is to rebound to 5.5-6%, per capita GDP is expected to reach $ 4,000, inflation maintained at 4-6%, and private sector credit growth is expected to reach Rs. 850 billion.

Furthermore exports are targeted at $ 13 billion, with apparel earnings to be $ 6 billion, tea $ 1.5 billion dollars, and gem and jewellery $ 1 billion for 2021. Imports are expected to be $ 17 billion, IT/BPO earnings target is $ 1.75 billion, and tourist earnings have been placed at $ 1.75 billion.

Worker remittances, which have bucked the COVID-19 trend, is likely to be around $ 7.5 billion, and foreign direct investments will be $ 2 billion with the possibility of Port City lease sales bringing in an additional $ 1 billion.

Delivering his assessment of the economy, the Governor acknowledged that reserves had slumped to $ 4.8 billion by the end of January but insisted that a mix of import restrictions, ongoing swap and credit negotiations, and a stronger growth performance led by key sectors, such as tourism and manufacturing, would keep the economy well-balanced this year.

However, Prof. Lakshman declined to give an update on talks of two crucial swap agreements that are ongoing with India and China, amounting to about $ 2.5 billion. He also refrained from answering repeated inquiries on the progress of a loan from China Development Bank. Nonetheless, Central Bank officials said the interest rates for these measures would likely be between 1% and 6.5%, given low global rates.

"There are challenges on the external front but the Government is working to address them. We are following policies that present an alternative viewpoint, and we hope the Treasury will also make its stance known in the coming weeks. People need to understand that the economy is being managed in a new way," he told reporters.

The Governor reiterated that Sri Lanka is projected to grow by 5.5% to 6% growth, given the low base of a 3.9% contraction in 2020. He also defended Government moves to support local businesses by imposing import restrictions, insisting that it was necessary to offset COVID-19 impact and meet the country's debt obligations. He also pointed out that numerous countries, including neighbour India, had built up their manufacturing capacity before opening up their economies, and were therefore stronger economies.

"Despite all these challenges, we posted a current account surplus in the third quarter last year. This is a very rare achievement indeed for Sri Lanka. Since Independence, only in 1950/51, 1954/55 and 1977 has there been a current account surplus. We hope to achieve the same this year and in 2022. In order to do this, we will have careful administration and surveillance of the economy."

Prof. Lakshman also noted that due to the Government's decision to take a different policy path that included import restrictions and a managed exchange rate, an agreement with the International Monetary Fund (IMF) would not be feasible. "We have followed such policies with little success, and our current policies are not adjustable with IMF practices."

He, however, emphasised that import restrictions would not be long term and downplayed concerns by partner blocs, such as the European Union, that have protested the policy, stressing that no significant reductions in imports had been placed on countries other than vehicles.