State Finance Minister Ranjith Siyambalapitiya says new era will herald with LG poll nomination submissions and be extended to ministerial staff
Govt. expects to reach direct and indirect tax ratio of 60% to 40% by end of 2023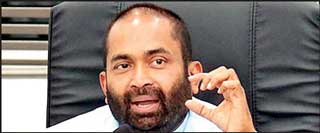 State Finance Minister

Ranjith Siyambalapitiya
In a bid to boost direct taxes and broaden the tax net as well as ensure transparency and accountability, the Government has made it mandatory for people entering politics to maintain their tax files.

Govt. makes

"Filing of income taxes will become mandatory for anyone keen to enter politics in future," State Finance Minister Ranjith Siyambalapitiya said yesterday.

He said the submission of LG polls nominations will mark the beginning of the mandatory requirement, whilst noting that it will also be extended to the ministerial staff members.

"When we took office last year, the ratio of indirect and direct tax was at 80% and 20%. It has now been brought to the level of 70% to 30%. By the end of this year, we expect the ratio to be brought to the level of 60% to 40%," he said.

Thereafter, he said the aim is to increase the direct tax ratio and bring down the indirect tax ratio significantly low level.

In a recent circular, the Inland Revenue Department enforced the opening of tax files for 14 categories that were expected to be taxable.