Import of organically derived nutrients to continue till SL reaches self-sufficiency in organic fertiliser
---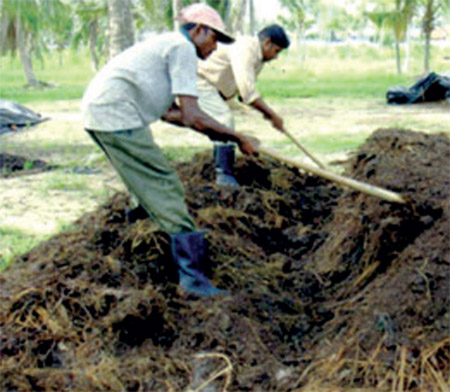 The Government has allocated Rs. 3.8 billion to purchase organic fertiliser from local producers for the 2021/2022 Maha season.

The Cabinet of Ministers this week approved the procurement of organic fertiliser quantities required for Ceylon Fertilizer Ltd. and Colombo Commercial Fertilizer Ltd., from the selected local organic fertiliser manufacturers, as recommended by the Cabinet Appointed Negotiation Committee.

The proposal to this effect submitted by Agriculture Minister Mahindananda Aluthgamage was approved by the Cabinet of Ministers on Monday. Cabinet Co-Spokesman and Plantations Minister Dr. Ramesh Pathirana said at the post-Cabinet media that the Government would be importing certain nutrients that were organically derived such as nitrogen, phosphorus, and potassium.

"During this interim period, till we sufficiently produce organic fertiliser in Sri Lanka, we might have to import a certain amount of nutrient components from other countries. But the priority is to procure required organic fertiliser locally," he added.

The Minister stated that the Government would follow these two practices, keeping in line with President Gotabaya Rajapaksa's committed shift towards the use of organic material for sustainable agriculture.

Rajapaksa has imposed a complete ban on the use of chemical fertilisers from the next cultivation season.