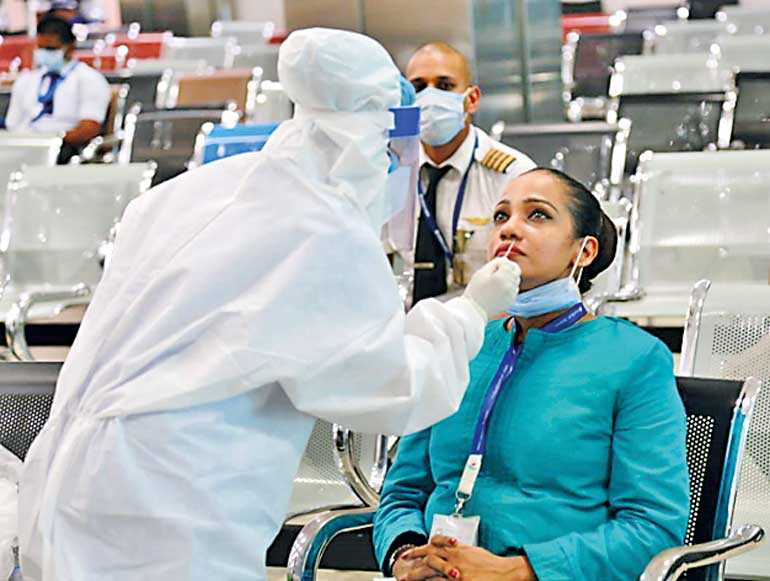 Samples for PCR tests being collected from the airport staff yesterday by health authorities
The Government yesterday began to conduct PCR tests for all passengers arriving at the Bandaranaike International Airport (BIA).

The decision was an outcome of the discussion held last week chaired by President Gotabaya Rajapaksa along with the COVID-19 Prevention Task Force, Sri Lanka Tourism and health authorities.

"We have now commenced conducting PCR tests for all passengers arriving at the Katunayake airport. Depending on the test results, it will be much easy for the health authorities to direct passengers to quarantine centres or hospitals," Tourism and Aviation Minister Prasanna Ranatunga said in a statement.

He said the key objective of the initiative is to identify COVID-19 infected passengers without any further delay and minimise the risk of the virus spreading further within communities.

Minister also expressed confidence in reopening BIA from 1 August to welcome tourists, adding that all passengers arriving will be subject to a mandatory PCR test at the airport.

"Upon arrival, tourists will be asked to submit their itinerary following which they will be allowed to stay at a hotel certified by health authorities in Sri Lanka. This is being carried out to ensure that travellers in the country are staying at safe places and to monitor their whereabouts," he added.

Despite the rising number of COVID-19 infected people, Ranatunga said the Government's program to repatriate Sri Lankans stranded in different parts of the world will continue.

"Nearly 10,000 migrant workers from 21 countries have been brought to the island and have been directed to quarantine centres and hospitalised those tested positive for COVID-19. Another 20,000 are expected to return to the island and they will be repatriated in a systematic manner in the near future," he assured.