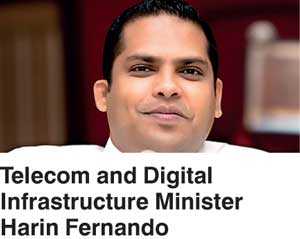 The Government has removed floor rates for call charges to promote cost optimisation and assist the industry to expand their market share, a top official said yesterday.


The move is targeted at bringing more benefit to telecom users as well as companies, Telecom and Digital Infrastructure Minister Harin Fernando told Daily FT. Letters informing of the changes were sent to all the operators by the Telecom Regulatory Commission (TRC) last week, Daily FT learned.
According to Fernando, the move will result in cost optimisation and allow more competition.


"The floor rates were implemented in 2010 to help the large operators. The new move will ensure cost optimisation by operators and will give hope for small operators," he said.


The move comes as new Finance Bill amendments proposed to slap more taxes on the industry. If approved by Parliament, the amendment will charge a levy of Rs. 200,000 per annum for each tower from 1 January 2019 for all mobile telephone operators who own cellular towers compared to the previously proposed Rs. 200,000 per month charge. The amendment also proposes a levy on Short Message Services, charging 0.25 per SMS for all bulk advertising messages, payable by the advertiser.