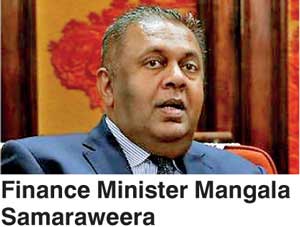 Due to efficient management of State revenue and expenditure, the Government for the first time in 63 years has been able to achieve a Rs. 21.9 billion surplus in the primary balance of the fiscal accounts during the first 10 months of 2017.


The Finance Ministry said in the post-independence history of Sri Lanka a surplus in the budget deficit was first recorded through 0.5% of the GDP in 1954. Later in 1956 this Budget surplus had increased to 2.2% of the GDP.

The surplus in the current account was registered from 1950-1970 and later from 1973-1994. Since then up to now the overall Budget deficit, deficit in the current account and the deficit in the primary balance were in negative growth continuously.


During the first 10 months of 2017, the surplus in the Budget primary balance was Rs. 21.9 billion. It was in negative by Rs. 37 billion during the corresponding period of 2016. Treasury officials are of the opinion that the favourable situation in the primary balance is a sign of positive growth in economic development and it will further enhance the capacity to manage debt repayment efficiently. Having an excess in State revenue more than the whole state expenditure minus the interest payment is known as the surplus in primary balance.



State revenue, when compared with the first 10 months of 2016, has increased by 10.4% to Rs. 1,473 billion in 2017. It was Rs. 1,333 billion during the same period in 2016. Tax revenue during the same period has increased by 14.2% to Rs. 1,470 billion in 2017.


Furthermore, State expenditure has increased by 9.5% from Rs. 1,881 billion to Rs. 2,060 billion. Interest expenditure during the first 10 months of 2017 alone is Rs. 609 billion apart from the domestic and foreign debt repayment of Rs. 856 billion.