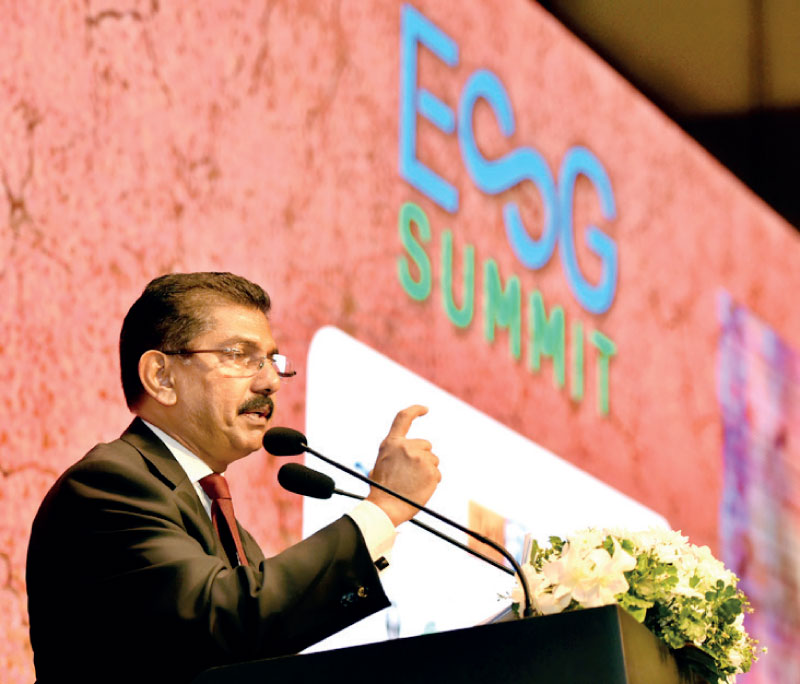 Chief Guest Environment Ministry Secretary Dr. Anil Jasinghe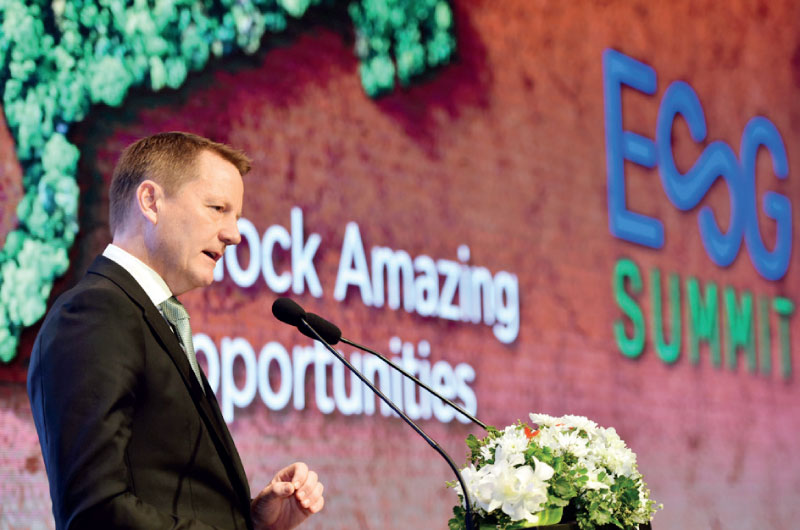 Guest of Honor and Keynote Speaker HSBC – Sri Lanka and Maldives CEO Mark Surgenor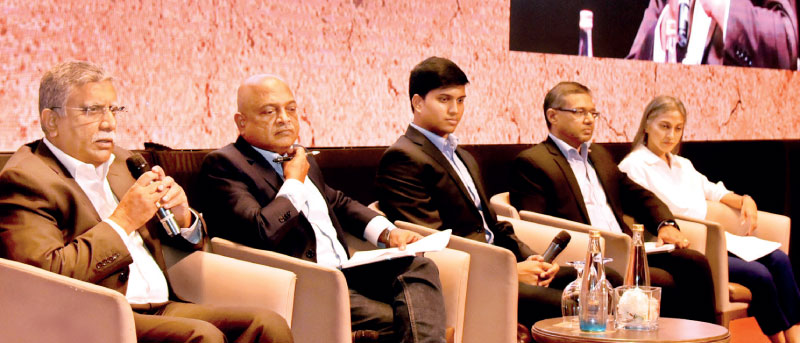 Session on "Simplification of ESG"
---
The second annual ESG (Environmental, Social, and Governance) Summit organised by the Daily FT and the Colombo University MBA Alumni Association and HSBC as strategic partner recently shared key insights from several experts to get the new corporate imperative right.
Environment Secretary Dr. Anil Jasinghe was the Chief Guest whilst HSBC Sri Lanka and Maldives CEO Mark Surgenor delivered the keynote address.
The ESG Summit focussed on several pertinent issues. One was "Simplification of ESG" with the main presentation by Brandix Lanka Group Sustainability Engineer Vinura Jayewardene. A panel discussion involving UNDP Sri Lanka Country Economist Dr. Vagisha Gunasekera, DIMO Director and Chief Financial Officer Suresh Gooneratne and Virtusa Senior Vice President and Global Head of Facilities and Sustainability Denver De Zylva shared key insights to how to successfully roll out an ESG strategy.
The Summit also showcased three success stories of ESG implementation. The presenters were HSBC Sri Lanka and Maldives Country Head of Wholesale Banking Kevin Green, MAS Foundation for Change Executive Director Sharika Senanayake and John Keells Holdings Vice President Nilusha Fernando.
Addressing a critical component in ESG implementation, the Summit also focussed on sustainable financing. The main presenter was HSBC Commercial Banking Asia Pacific Regional Head of Sustainability Sunil Veetil and the panelists were IFC South Asia Energy and Infrastructure Principal Investment Officer Kamal Dorabawila, KPMG Sri Lanka Partner, Climate Change and Sustainability Services, Global Assurance, Family Business and Board Governance Piyumi Sumanasekera and Energy Council Chairman and National Chamber of Commerce General Secretary and Regen Renewable Ltd. CEO Dr. Lakmal Fernando. This session was moderated by HSBC Sri Lanka and Maldives Head of Communications Tharanga Gunesekera.
Baur and Company and Brandix were corporate sponsors of the ESG Summit and Sarva Colombo was the creative partner.
Following are excerpts from the speeches made by Chief Guest Dr. Anil Jasinghe and Keynote Mark Surgenor.
Environment Ministry Secretary Dr. Anil Jasinghe:
Sustainable Consumption and production and affordable clean energy are closely linked concepts within the broader framework of sustainable development.
SCP, or Sustainable Consumption and Production, refers to the use of resources in a way that meets the needs of the present without compromising the needs of future generations. It emphasises the need to promote more sustainable patterns of consumption and production, which involve reducing waste and pollution, using resources efficiently, and developing renewable energy sources.
Sustainable consumption is about making responsible choices as consumers and as a society whole. We need to consume less, waste less, and recycle more. By reducing our consumption, we can minimise our environmental footprint.
On the other hand, sustainable production refers to the creation of goods and services while minimising environmental impacts and ensuring the welfare of the workers. It's about using renewable resources and reducing waste in the manufacturing process. This approach not only benefits the environment but also creates long-term economic benefits, such as cost savings and increased competitiveness.
Affordable clean energy, on the other hand, refers to the provision of reliable, sustainable, and modern energy services to all at an affordable cost. This includes the use of renewable energy sources such as solar, wind, hydro, and geothermal power, which are clean and do not emit greenhouse gases that contribute to climate change.
The relationship between SCP and affordable clean energy is that SCP can promote the adoption of renewable energy sources by reducing the demand for energy and improving energy efficiency. SCP can also promote the use of sustainable transportation systems and the adoption of sustainable lifestyles, which can reduce the overall energy consumption.
Therefore, SCP and affordable clean energy are closely related and interdependent, with the promotion of one supporting the other, and both being essential for achieving sustainable development goals.
According to a 2020 report by the ESCAP on progress towards the Sustainable Development Goals (SDGs), the Asia-Pacific region is not on track to achieve any of the 17 SDGs. The region has either stagnated or regressed on several environment-related SDGs, with the biggest regression related to SDG 12 - "ensuring sustainable consumption and production patterns".
Challenges for Sustainable Consumption and Production
One of the challenges is the rising population, which has led to an increase in the demand for goods and services. This demand puts a strain on the planet's resources, leading to overconsumption and depletion of natural resources such as water, forests, and minerals.
The other key challenge is our mindset as consumers. We live in a world that encourages us to buy more, own more, and consume more. However, we need to start thinking about the consequences of our actions and make conscious decisions about what we buy and how we use it. We must also hold businesses accountable for their production processes and demand more sustainable practices.
This can include using renewable energy sources, reducing water consumption, and minimising waste production.
Governments also have a role to play. Governments can incentivise sustainable production and consumption practices, regulate environmentally harmful products, and invest in sustainable infrastructure. There is also a strong economic case for sustainable consumption and production. By using resources more efficiently, we can reduce costs, improve productivity, and create new opportunities for innovation and growth. This can lead to a more resilient and sustainable economy that benefits everyone.
SCP Policy of Sri Lanka
The National Policy on Sustainable Consumption and Production (NCSCP) was launched in 2019 to provide a framework for SCP in Sri Lanka. The policy was developed through an extensive interactive process involving all the key ministries and relevant societal stakeholders.
The SCP policy is focussed on ten thrust themes consisting of four key environmental domains (Air, Water and Sanitation, Energy and Waste), and six priority economic sectors (Industry, Food, Building and Construction, Transport, Tourism and Health) as well as three cross-cutting areas (Education and Communication, Science and Technology, and Public Procurement).
Indicative policy principles, statements and goals have been defined for each thrust that will have to be further specified via detailed SCP Action Plans to be developed by the delegated leading Ministry in close cooperation with relevant supporting Ministries and stakeholders.
In addition to the national policy, the Ministry of Environment has also taken steps to promote SCP through various sector-specific policies and initiatives. Launching of Green Procurement Policy, National Policy on Waste Management, and Establishment of Eco Labelling framework are some of the key initiatives among them.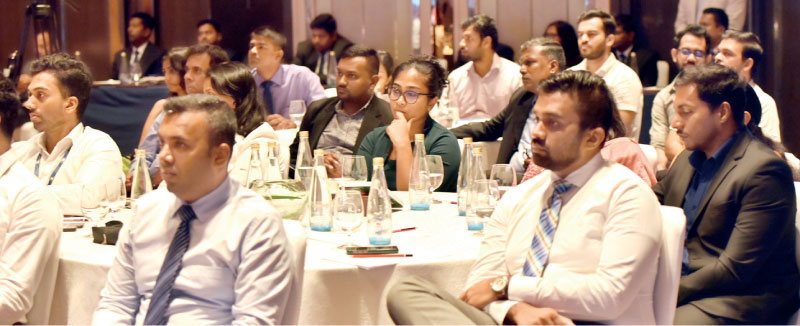 For companies, climate action failure is actually now becoming one of the key risks for every organisation going forward
Every firm in Sri Lanka should commit to restore degraded pockets of forest and help achieve the increase of the country's forest cover from today's 22% to 32% by 2030, as indicated in the NDC submitted by Sri Lanka. If every company did this, this would be easily achieved. We believe that sustainability is not only a responsibility, but is also a real opportunity for us all
- HSBC Sri Lanka and Maldives CEO Mark Surgenor -


Affordable and clean energy
Access to affordable and clean energy is crucial for sustainable development, economic growth, and poverty reduction.
Sri Lanka has made significant progress in providing access to electricity, with over 99% of the population having access to electricity. However, the country still faces challenges in ensuring access to affordable and clean energy.
One of the significant challenges facing Sri Lanka is its heavy reliance on fossil fuels, and this has led to high energy costs and increased greenhouse gas emissions. The country aims to increase the share of renewable energy in the energy mix to reduce this dependence and improve energy security. Accordingly, the Government has set a target of achieving 70% of electricity generation from renewable energy sources by 2030.
Sri Lanka has significant potential for affordable and clean energy, particularly in renewable energy sources such as hydro, wind, solar, and biomass.
It is important to note that many of the negative impacts can be mitigated through proper planning, technology selection and sustainable waste management practices.
Two other clean energy sources that are yet to be fully studied in Sri Lanka are Ocean Energy and Geothermal energy.
Nuclear energy can be considered a relatively clean energy source in terms of carbon emissions, as nuclear power plants do not emit greenhouse gases like carbon dioxide during operation. However, whether or not nuclear energy is considered affordable is a more complex issue. Nuclear energy is reliable and can provide a stable source of power. Not affordable when compared to renewable energy sources like solar and wind. Some say it's not clean as there is a potential for accidents and long-term storage of radioactive waste.
HSBC Sri Lanka and Maldives CEO Mark Surgenor
The world's top five largest polluting countries are responsible for generating approximately 60% of all global CO2 emissions. And you might think, why do we feel we need to do something about this here on our island of Sri Lanka, when we only contribute 0.3% of that total? The reality, sadly, is that climate change is an existential threat to every nation on planet Earth, regardless of size, and that includes Sri Lanka.
Sri Lanka faces a significant threat from extreme heat, with a number of days surpassing 35 degrees centigrade being predicted to rise from the current 20 to more than 100 within the century.
The IPCC report also estimates that the mean annual temperature in Sri Lanka was projected to increase by as much as a full degree centigrade by 2030. We can only imagine the impact it has not just to us humans and plant life, but to the 21 species of mammals.
The 31 species of birds, the 50 species of fish and over 200 species of reptiles and amphibians that are unique to this island. I think you all agree that this is something that we all have a responsibility to protect.
For companies, climate action failure is actually now becoming one of the key risks for every organisation going forward. We only have one Earth and everybody needs to play their part.
HSBC is one of the largest financial institutions in the world and is the largest international bank in Sri Lanka. We have the privilege to bank some of the best in the world who are investing in ESG positive outcomes.
In February 2023, HSBC conducted its fourth edition of HSBC ESG Sentiment Survey asking our clients what is important to them, what are they thinking about and what do they feel needs to happen to progress the agenda.
The respondents were from around 400 institutions and all were in roles with ESG decision making responsibility. So what did we find? 57% believe the ESG will continue to increase over the next twelve months.
In terms of themes, climate change continues to dominate ESG and what's actually becoming clear is that Climate is potentially taking a focus away from the S and the G because it is E and Climate that features so heavily on disclosures and national strategies. Anything water related and pollution related seems to be rapidly becoming one of the key themes for now and for the near future. ESG could be fully mainstream within a decade. Fully mainstream means ESG is up there with revenue balance sheet costs in management discussions on a day to day basis and a third think this is going to be at that point in the next five to ten years. It is important because today in ESG, in many companies support is largely an addendum as opposed to one of the first things that's in there now. The influence of regulation is growing very fast and moving from acting as a nudge to behaviour to becoming the key accelerating push with consequences for noncompliance. As a result, regulators are now being seen by many stakeholders as having had the most impact in embedding changes in driving sustainability in organisations. So what do we take from this? We believe that policies and regulations are critical. Global and local adoption of policies to mitigate climate change will play a pivotal role in mitigation adaptation and transition of firms into a low carbon future.

Session showcasing success stories of ESG implementation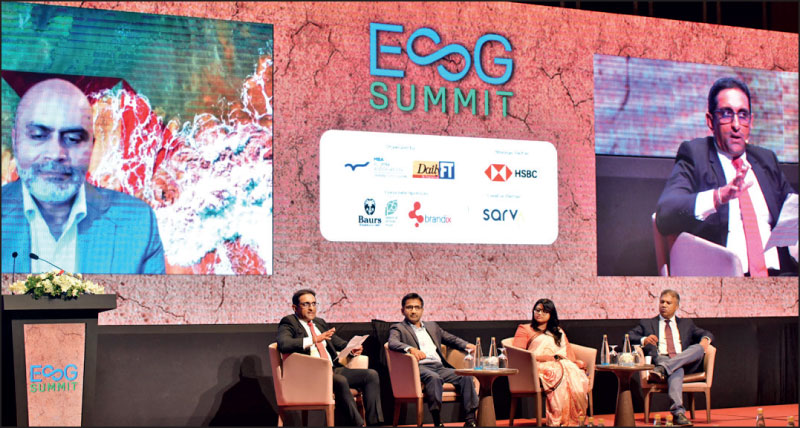 Session on sustainable financing
---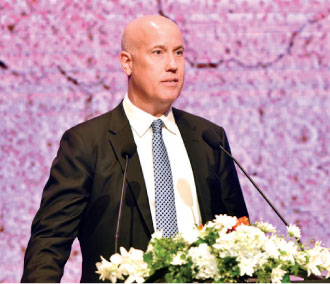 HSBC – Sri Lanka and Maldives Country Head of Wholesale Banking Kevin Green
---
Initiatives towards sustainable financing in Sri Lanka
From a regulatory perspective, sustainable finance is a key factor to support companies transition to a low carbon future and we as a country continue to make significant strides in this space. Sri Lanka formally launched its sustainable finance framework in 2019.
Further to this, in 2022, Sri Lanka's banking regulator, the Central Bank of Sri Lanka, launched a Green taxonomy in partnership with the IFC. This taxonomy is the first to be developed using the EU International Platform on Sustainable Finance Common Ground Taxonomy.
This was followed up by Banking Act number five in July 2022, clearly laying out what all banks in the country need to play their part. Now, regulations aside, let's have a look at some of the things going on in the rest of the world and what we can maybe learn.
Interestingly, the Global Climate Change Performance Index tracks climate mitigation efforts across 57 countries by three renowned climate research institutes. Any guesses on which country is currently in the lead? Denmark. Why Denmark is currently ranked number one. Three essential things: very tight regulation, very strict adherence to that regulation law, and advanced application of technology. So, an interesting development in Denmark is the building of a new offshore landmass called Energy Island.
This will be many miles out to sea, will be the size of 18 football pitches, and will have 600 advanced wind turbines. When fully operational by 2030. This will provide enough energy for the entire country of Denmark.
So let me just give you a little bit of context of how space efficient wind can be. 18 football pitches is around 30 acres of land that is the right place and recovered in modern wind and wind turbines, is going to be able to support the entire needs of a western country.
Now, interestingly, Norochcholai, while obviously not in the right place for wind, takes up 213 acres. Now, new island building also is less and less complex these days. For context, Denmark is going to build 30 acres for their entire country.
Port city Colombo, is 650 acres and only took five years to build. And it's not just about creating energy efficient ways of generating power. It's also about creating new ways of capturing and holding carbon.
We all know that planting new trees helps capture carbon and improves the environment. There are now new ways being developed to actively and mechanically capture carbon and store it for centuries with empty oil wells under the sea.
Preserving Sri Lanka's globally significant whale population
But closer to home, did you know that helping to preserve Sri Lanka's globally significant whale population is not only great for diversity, but biodiversity, but also captures significant carbon? The average large whale is estimated to sequester over 30 tons of CO2 in a lifetime, largely through their circuit surface level excretions, supporting algal ecosystems that capture CO2.
With one whale estimated to capture the same carbon as around an acre of new forest, that's something to take seriously. Sri Lanka has two thirds of the world's oil and half of the world's containers sailing past close to our shores.
With so much whale life in close proximity, the inevitable whale ship collisions, which are in fact the leading global cause of whale mortality, warrants concerted efforts to avoid. New technologies are available to help ships avoid whales, and careful route planning and speed restrictions can make a huge difference for whales, for the climate and for us all.
So what are we as HSBC doing about this existential challenge? Well, our climate strategy is already a central pillar of our group strategy and we have stated our commitment to transition to net zero.
As one of the largest financial institutions in the world, we want to lead that change. That's why our aim is to become net zero in our own operations and supply chain between now and 2030. We will also deploy up to a trillion dollars in sustainable finance to support our customers' transition to a low carbon future and become net zero by 2050.
Our climate policies and targets will align our finance emissions. Emissions produced by our customers and projects. We provide finance to all to net zero by 2050. We have to. We are also setting 2030 targets for emissions reduction in different sectors, focusing on the heaviest emitters first.
Our targets include commitments to phase down our fossil fuel financing and specifically phase out completely coal financing. We want to open transition pathways to our clients, supporting them with exploratory research, insights and solutions for their businesses. We will continue to work on climate solutions like our HSBC Sri Lankan project core our climate opportunities, the Restoration and Education Initiative. As part of this, HSBC aims to restore 125 hectares of land in Tantrimale.
In partnership with IUCN, we tapped into the HSBC global 100 million dollar Global Climate Solutions Fund to finance this project. And once completed, the restored area is expected to absorb a total of 34,000 tons of CO2 over 20 years. This is a simple way to make a difference and I encourage every firm in Sri Lanka to commit to restore degraded pockets of forest and help achieve the increase of the country's forest cover from today's 22% to 32% by 2030, as indicated in the NDC submitted by Sri Lanka. If every company did this, this would be easily achieved. We believe that sustainability is not only a responsibility, but is also a real opportunity for us all.
---
Environmental, Social, and Governance factors, or popularly known as ESG are used to evaluate the sustainability and ethical impact of a company or investment.

Environmental factors refer to the impact of a company's operations on the natural environment, such as its carbon emissions, waste management practices, and resource consumption.

Social factors refer to a company's impact on its employees, customers, and the communities in which it operates.

Governance factors refer to the structures and processes that guide a company's decision-making,

ESG criteria are increasingly being used. Companies with strong ESG performance are often considered to be better positioned to manage risks and capitalise on opportunities in a rapidly changing business environment.