In bold comeback move post-pandemic industry to host exclusive exhibition with 100 booths by renowned and large industry players along with SME pavilion
January event to help industry emerge out of recent setbacks and revitalise promotion and enhance prospects
SLGJA President Ajward Deen says FACETS has made Sri Lanka a credible and attractive source of gemstones for global retail manufacturers
Gems, diamonds and jewellery exports up 35% to $ 350 m in first 10 months; likely on course to net record $ 500 m in 2022
NGJA Chairman Viraj de Silva says medium term goal is to boost exports to $ 1 b
Bigger FACETS show to move to upcoming Cinnamon Life when ready
FACETS Sri Lanka Chief Altaf Iqbal says right and conducive policies could make Sri Lanka a hub for gem and jewellery exhibitions, traders and buyers
Cinnamon Hotels and Resorts' Kamal Munasinghe says FACETS will help further in re-positioning tourism in Sri Lanka
---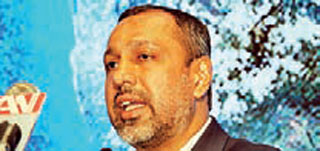 FACETS Sri Lanka 2023 Chairman Altaf Iqbal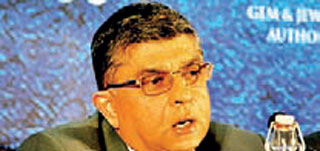 Sri Lanka Gem and Jewellery Association (SLGJA) President Ajward Deen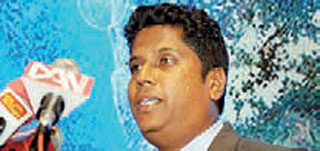 National Gem and Jewellery Authority Chairman Viraj de Silva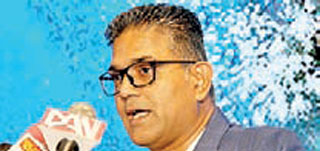 Cinnamon Hotels Colombo Area Vice President Kamal Munasinghe
SLGJA Local Promotions Committee Chairman Rizan Nazeer
FACETS Sri Lanka is making a return after a two year hiatus with an exclusive "Premium Edition" in January to put fresh global spotlight on the country's gem and jewellery prowess and boost much needed foreign exchange earnings and livelihoods for people.

For the past 29 years (except COVID-impacted 2020 and 2021), the international gem and jewellery trade show FACETS has been held in September with a larger display of 200-300 booths.

Given the absence of a proper showcase since COVID-pandemic and the need to kick start a quicker revival of the industry's exports thereby enhance the country's foreign reserves as well as tourism, the Sri Lanka Gem and Jewellery Association (SLGJA) has taken on the challenge of holding a mini but a niche-market show from 7 to 9 January at the Atrium of the new venue Cinnamon Grand.
FACETS Sri Lanka Chairman Altaf Iqbal told the media on Monday that the premium edition is a bold attempt by the industry to emerge out of setbacks faced by the country and revitalise the promotion and enhance prospects.

"The premier edition will have only around 100 booths showcased by the more renowned and large marketers of world-famous gemstones and jewellery from Sri Lanka," said International Coloured Gemstones Association Director Iqbal. The unique Ceylon Sapphire will hold pride of place in the exhibition given its global popularity.

"If you look at some of the most valuable masterpieces among royalty around the world for instance, it is a Sri Lankan gem that holds the centrepiece. We have to bring that trend back, bigger and better of course," Iqbal added.

SLGJA President Ajward Deen said FACETS has successfully put Sri Lanka on the gem and jewellery map of the world thereby making the country a credible and attractive source of gemstones for global retail manufacturers.

As an inclusive approach, separately the exhibition will also feature 10 small and medium but high potential enterprises.

The National Gem and Jewellery Authority (NGJA) is extending support along with the Sri Lanka Export Development Board (SLEDB) to make the 2023 event a success.

NGJA Chairman Viraj De Silva said that the Sri Lankan gem and jewellery industry has continued to be active internationally throughout, showing at exhibitions in Dubai, Singapore and Germany.

"The response we have received has been spectacular and the endorsements very encouraging. We need to maintain this momentum and build on it because the world knows about the value, beauty and uniqueness of our gems and we now need to push it up to the next rung and become the best-known gems in the world," emphasised De Silva.

He also said that FACETS Sri Lanka will have a curated collection of SMEs, who encompass the backbone of the industry, in a specially demarcated area at the exhibition.

The NGJA Chief said gems, diamonds and jewellery exports in the first 10 months of 2022 have grown by 35% to $ 350 million. He told the Daily FT that the forecast is that the industry's exports could reach a record $ 500 million this year. Plans are to boost the figure to $ 1 billion in the medium term.

SLGJA plans to hold the next bigger and regular FACETS Sri Lanka at the upcoming Cinnamon Life later on.

The timing of the premium edition in January also coincides with an envisaged busy winter tourist season in Sri Lanka as visiting foreigners are an important segment of sales for the gem and jewellery industry.

Cinnamon Hotels and Resorts, Colombo Area Vice President Kamal Munasinghe said the decision by SLGJA to hold a premier edition is yet another positive sign in tandem with economic recovery and pick up in tourist arrivals.

"FACETS 2023 will help further in re-positioning Sri Lanka as a tourist destination," said Munasinghe adding that Cinnamon is offering special packages for visiting foreign buyers to undertake post-exhibition holidays and tours.

FACETS Chairman Iqbal said that if there are right and conducive policies, Sri Lanka could become a hub for gem and jewellery exhibitions, traders and buyers especially with the popular centre Hong Kong going through difficulties due to COVID restrictions among others.

"We are showcasing the treasure trove of gems of this little island, known as Ratnadweepa or land of gems as it was called from ancient trading times. This (FACETS 2023) is just the beginning of ensuring that Sri Lankan gems will be the preferred choice for any jewellery, anywhere in the world," said the SLGJA officials.



Pix by Lasantha Kumara