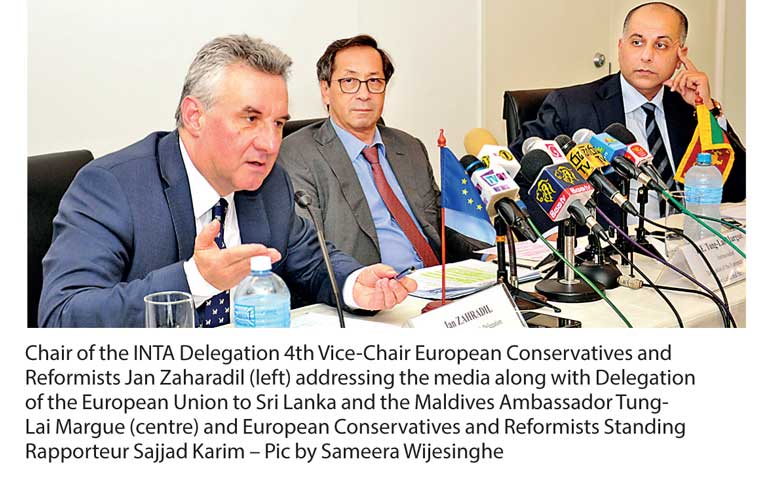 EU monitoring delegation on GSP+ upbeat on human rights and reform process
Calls on Govt. to stay the course, insists no demands but
EU partner in SL development
Concerned over Digana riots, urges Govt. to ensure no impunity for perpetrators
Says no-confidence motion sign of vibrant democracy in SL
To meet PM today for discussions


By Uditha Jayasinghe

Progress on key legislative and policy reforms needed to keep GSP+ were developing well, believes a monitoring delegation of the European Parliament, which yesterday said it remained committed to improving human rights in Sri Lanka.

The six-member delegation of the European Parliament Committee on International Trade (INTA) arrived in Sri Lanka on Wednesday to follow up on the country's commitments made in exchange for preferential access to the European Union (EU) market.

The Generalised System of Preferences Plus (GSP+) is of key importance for Sri Lanka's economy. The INTA delegation was pleased to note that trade between the EU and Sri Lanka was on an upward trajectory following the entry into force of GSP+ last summer, making the EU Sri Lanka's largest trading partner.
"We are here to debate issues linked to GSP+ and we are very keen to cooperate with Sri Lanka partners to keep the facility alive. We come as friends and allies. We are not here to master or teach anyone. This is not to scrutinise Sri Lanka. We are of course interested in the overall policy situation, security and judiciary measures because it is important for investors to know that Sri Lanka is a stable country," delegation Chairman Jan Zahradil told reporters.

The delegation met key Sri Lankan officials, including Law and Order Minister Ranjith Madduma Bandara, Speaker Karu Jayasuriya, Leader of the Opposition S. Sampanthan, Labour Minister John Seneviratne, NGO representatives, trade unions and UN officials. They will meet with Prime Minister Ranil Wickremesinghe today.

The delegation also observed the no-confidence motion unfolding in Parliament on Wednesday and observed that it was a demonstration of Sri Lanka's vibrant democracy in action. They were also positive of efforts made by the Government to adhere to a range of international and UN conventions that are critical to maintaining GSP+ and emphasised the monitoring effort was in no way targeted at making demands from Sri Lanka.

"We value the relations between the European Union and Sri Lanka and are keen to strengthen and deepen those relations. We need to dispel the myth of external demands. There are certainly certain sections of political discourse in Sri Lanka that likes to push this message to Sri Lankan people that there are demands being made by Europe and perhaps elsewhere as well. That is simply not the case. Sri Lanka has to want to raise its standards for itself and we believe the people of Sri Lanka are genuinely committed to wanting to raise their own standards," said INTA Standing Rapporteur for South Asia, Sajjad Karim.

However, the delegation did raise concerns about the communal clashes in the Kandy District last month and called for perpetrators to be held legally responsible and for the Government to engage more with the affected community and rebuild their confidence with effective governance.

"I'm not satisfied that adequate policing and protection was provided for those who were under attack immediately at the point when they were under attack. There is certainly nervousness amongst minority communities here in Sri Lanka, which includes the Muslims, and therefore there is a need for the Government to reach out to ensure cohesion and good community relations are reinstated. The only real demonstration of that is to ensure there is no impunity for the perpetrators of these acts, whoever they may be," Karim added.

Despite the slow progress on key reforms, including replacing anti-terrorism legislation, the delegation expressed confidence of the Government's commitment and insisted Sri Lanka remained on the right path.

"The review and monitoring mechanism is to see a trend of improvement with mechanisms being put in place that would ultimately promote human rights. It is that track, that trend that we are looking for. There has already been much delivery by Sri Lanka on so many issues but there is further work to do. Now is the opportunity to do that and I hope Sri Lanka seizes it."