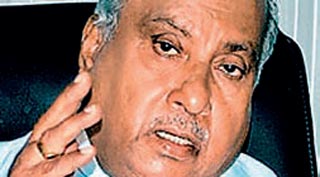 Power Minister Gamini Lokuge
---
The Free Trade Zone Manufactures' Association (FTZMA) has expressed serious concerns over the planned two-hour power cut.

In a letter to Power Minister Gamini Lokuge, FTZMA said power cuts could lead to very tragic effects on the lifeline of the economy as it would result in hampering the country's exports which bring in much needed foreign exchange into the country.

"Some of the major impacting areas are timely processing, producing and delivering of goods in line with the deadlines set by international buyers and also affecting the functioning of most of the manufacturing plants that require an uninterrupted electricity connection in order to run their plants day and night," FTZMA said.
Minister Lokuge was told that the power outage is seemingly a very tedious task to cope with by plants that are unable to invest in power generators. "Those who could afford to use standby generators will have to take an extraordinary cost on production resulting in their export product becoming more costly than that of the standard selling price thus making them uncompetitive in the export markets," the letter stated.

"We, therefore, urge you to kindly intervene in this matter on an urgent basis and avoid implementing any power outage to the locations of all Free Trade Zones in the country, thereby ensuring to provide an uninterrupted power supply which is an integral part of infrastructure committed by the Government to the foreign investors in the country as per the agreement signed with the BOI," FTZMA has informed Minister Gamage.

It also said continual power supply was even pledged by the previous CEB Chairman to the BOI and as well as the State Minister of Aviation and Export Zones Development D.V. Chanaka. FTZMA said it looks forward to Power Minister Lokuge's urgent action to enable enterprises to continue their operation without any disruptions.