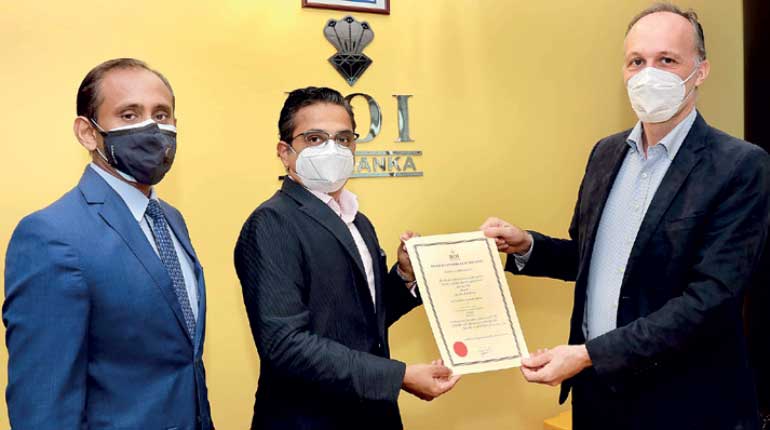 BOI Chairman Sanjaya Mohottala presents the registration certificate to Salt Collective Chairman Cyril Jacob. BOI Director General Pasan Wanigasekara is also present
---
Salt Collective Ltd., a French hospitality development venture, will invest almost $ 4 million to set up a 16-room boutique hotel in Ahungalla in the southern coast of Sri Lanka.

The project is scheduled to be opened for business in December 2022.

BOI Chairman Sanjaya Mohottala said: "We are delighted to welcome Salt Collective to our portfolio of investors as they drive investment for the tourism sector under the purview of the BOI. The tourism and leisure industry is our third largest foreign exchange earner in the Sri Lankan economy, and it contributes significantly to employment generation, foreign exchange earnings and tax revenues. It is therefore opportune for Sri Lanka to constantly augment infrastructure capacity to cater to future demand, and in this case, for those tourists with a discerning travel experience palette."

Salt Collective Ltd. Chairman Cyril Jacob said: "Despite Sri Lanka having experienced numerous challenges, which also include the COVID pandemic, we are still great believers in Sri Lanka's tourism potential. It has so much to offer to both international and domestic travellers with yet unmet demands for high-end boutique hospitality. By teaming up with Resplendent Ceylon, which will be managing the hotel, we believe that we will be able to offer a unique product with superb service and guest experience."

This project was conceptualised by architect Channa Daswatte and developed by a team of design firms in Sri Lanka and Singapore. It incorporates traditional elements of Sri Lankan architecture, with casual chic interiors of a modern 'beach house'.

The hotel, which will cater to high-end customers with world-class hotel rooms, personalised wellness programs, and outstanding food and beverages, will provide a unique experience at an upscale level.

The new venture will be operated by Resplendent Ceylon, one of the country's premier operators of luxury properties, renowned for creating a trail of luxury resorts in Sri Lanka.