Former TID Head Nalaka Silva says NTJ under surveillance since 2016
Open warrant and Interpol Blue Notice obtained in July 2018
Zahran's social media activity was under 24/7 surveillance
Zahran's incitement of Muslim youth and violent extremism escalated after Digana incident in early 2018


By Chandani Kirinde

The Terrorism Investigation Division (TID) obtained an open warrant from the Colombo Magistrate's Court as well a blue notice from Interpol in July 2018 in order to apprehend Mohamed Zahran, the Leader of the National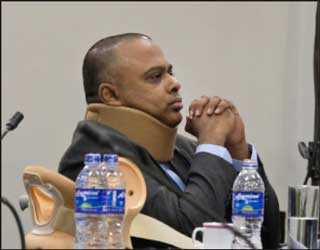 Former DIG Nalaka Silva at the Parlimentary Select Committee yesterday
Thowheed Jamaath (NTJ) who masterminded the Easter day bombings, the former Head of the TID told a Parliamentary Committee yesterday.
This followed months of extensive surveillance of Zahran's social media activity, former DIG Nalaka Silva told the Parliamentary Select Committee appointed to look into and report on the terrorist attacks that took place on 21 April.

"After the Digana (anti-Muslim riots) incidents in 2018, his actions started moving towards violent extremism. There was a surge in his social media activities and we saw he was moving from extremism to violent extremism. He was using Facebook and websites to incite Muslim youth towards extremism," Silva disclosed.

The former DIG said that he found that Zahran was becoming increasing dangerous and trying to attack Muslim youth and even suggested that his group be proscribed as part of the activity to crack down on him.

Zahran had also begun to endorse the activities of ISIS and was promoting ISIS videos through his Facebook and websites even though there was no evidence to show that he had any direct links with ISIS.

The former TID Head said that the Muslim groups came into the TID's radar around 2013/2014 with information of a group called the Sri Lanka Thowheed Jamal which drew inspiration from the Tamil Nadu Thowheed Jamal. This group later spilt into several groups and the NTJ was born. "At that time, they were an extremist group but there was no violent extremism during that time. There were some incidents where there was infighting among these groups but that was all at that time," he said.

He said that Zahran had come under regular surveillance from 2016 as it was becoming apparent that he was moving towards violent extremism after a clash between NTJ members and another group erupted in Kattankudy, which led to an investigation by the local Police as well as the TID.

"We started monitoring the social media activities of Zahran and put in place a special plan. His Facebook pages – he had one in his real name and another with an alias – as well as two websites were under surveillance 24 hours a day, every day."

It was based on this information that the TID filed a B report in Court No. 8 of the Colombo Magistrate's Court and got an open warrant.

"We wanted to bring him in for questioning but we could not trace him in Kattankudy, Kuliyapitiya and other places he was known to frequent. That is when we sought the open warrant fearing he may have gone overseas through illegal means as his passport did not show he had travelled out of the country through legitimate channels. Hence, we got the Blue Notice from Interpol which helps to collect additional information about a person's identity, location or activities in relation to a crime."

He said that along with these measures, the Telecommunication Regulatory Commission (TRC) as well as Sri Lanka CERT was informed to take measures to block these sites as well as inform Facebook about the inflammatory contents.

He said that the TID had also scrutinised Zahran's bank accounts as part of its investigations but these did not have substantial amount of funds coming in at the time, which would come under terrorism financing or money laundering laws. "The next steps were to investigate these further as it's possible he had secret accounts," he said.

The former DIG said that as Head of the TID which operates under the IGP, each Monday he submitted a full report to the IGP on all extremism/terrorism-related activity. This included activities of LTTE-linked groups and diaspora activities as well activities of Muslim extremist groups.

Silva, who is out on bail after seven months in prison in connection with an alleged plot to assassinate the President, said that since his arrest in October last year, he was unaware if the programmes he had put in place at the TID to keep Zahran and other groups under surveillance were continued or halted.

"There is no reason why these could have stopped but being deprived of my leadership was a problem for them. When I took over, those in the TID were not all that well informed of Muslim extremism. They were concentrating on the LTTE and I was the one who brought in the possibility of the new threat and guided them and sent men on overseas training as well as this was a new thing for those in the department," he said.